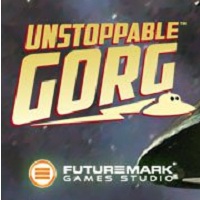 Shattered Horizon creator Futuremark Games Studio has been teasing a trio of games, but the most interesting one of the bunch was revealed this afternoon. Unstoppable Gorg is a tower defense title that draws heavy inspiration from World War II-era sci-fi and the new theatrical trailer released certainly proves that FGS has a handle on the gag.
To get just a tad more specific, Unstoppable Gorg will have you protecting the entire solar system from alien attack. In order to beat back the alien hordes, you'll be tasked with deploying satellites around planets, moons, and even space stations. Curiously, and this is a point made very clear in the announcement materials, you'll be able to grab and move your satellites after placing them down.
"With Unstoppable Gorg we have been inspired by classic sci-fi films to create a game of flying saucers, rubbery aliens, dodgy effects, and earnest heroes," an FGS representative said in a statement. "[It] builds on the core tower defense mechanics that fans love while shattering the genre's conventions to provide exciting new experiences."
Shattering genre conventions is something Unstoppable Gorg will need to do in order to succeed on the App Store. There are a billion other tower defense games to choose from, all of which have benefitted design-wise from the genre's sudden explosion on the 'Store. Here's a free weapon idea, Futuremark: cat cannons. No other game I know of has them. Oh, wait, here's another one: nets, like the kind Cyrax throws. I know, I know — I'm a genius.
No release date has been set, by the way. Thus far we've only got a general 2011 release window for iPad, PC, and Xbox Live Arcade.