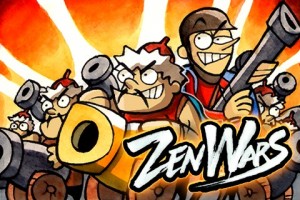 Earlier this year, Liv Games made a nice sized splash on the App Store with Legendary Wars [99¢/Lite/HD], their unique take on castle defense games that featured fantastic art, humor, and gameplay. Now they are teaming up with developer subzero.eu software to publish a new iOS game called Zen Wars.
Zen Wars is an arcade strategy title where you're tasked with building up a base with both offense and defense in mind. Once finished, you'll take on incoming attacks during the game's multi-level campaign. When a battle is finished and you've come out on top, you'll need to quickly repair the damage to your base and add any necessary offensive upgrades before the next attack hits.
It's this rebuilding aspect in Zen Wars that sounds really interesting to me. Rather than just building up an epic base in preparation for a single battle, you'll need to think on your toes in order to make the correct preparations for multiple attacks, adding an extra layer of strategy and planning over other similar games. You can see much of this in action, as well as the cool art style, in the following trailer for Zen Wars:
One of the most promising parts of Zen Wars is that beyond its single player campaign, you'll also be able to engage in up to 3 player online multiplayer over Game Center. This type of gameplay definitely seems well-suited to some online play, and I'll be interested to see how that turns out in the final version. The developers are hoping to submit Zen Wars in the next couple of days, and are shooting for a release at the end of July or the first week in August. It will be launching for an introductory price of 99¢ with a regular price of $1.99.
We'll keep our eyes out for Zen Wars and will take a closer look at the game when it hits the App Store in the coming weeks.