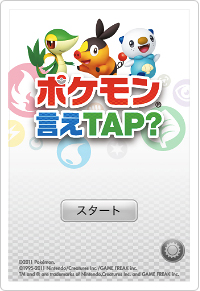 We did our best to stay rational amidst the rampant speculation that Nintendo was getting into the App Store with the release of Pokémon Say Tap in Japan this summer. For one, it isn't a move that makes sense. Nintendo puts its own titles on consoles and handhelds that it owns and sells exclusively. Also, Nintendo is keen on ragging on the App Store and saying Apple has it all wrong, so why would it bother with an app?
The word that we trusted was that this was a The Pokémon Company release, not a Nintendo one. The Pokémon Company is an affiliate of Nintendo and are the marketing managers of a brand that expands well beyond the confines of video games and into the realm of TV, toys, and other forms of media like a trading card game.
Turns out that this information was accurate. Nintendo of America, in a recent chat with Giant Bomb, flatly denied any Nintendo involvement with the project and said Nintendo content will continue to stay on Nintendo platforms. Pokémon Say Tap is a The Pokémon Company marketing tool. That's it. Period.
"On July 1, the Pokémon Company announced that it was launching a free Android and iOS application in Japan called [Pokémon Say Tap]. The Pokémon Company routinely launches applications for cell phones and PCs as a way to promote its non-video game products, such as a music CD and Pokémon TCG cards in this instance," Nintendo of America said in a statement given to Giant Bomb.
"Since they are intended purely as promotional tools, not as unique video games, Nintendo is not involved in any way," it said. "… Nintendo has no intention or plans of publishing its IP on non-Nintendo platforms. This is an example of a promotion by a key Nintendo partner and has no bearing on Nintendo's overall strategy."
Keep dreaming those Nintendo dreams for Nintendo-published and created releases on the App Store. Mario and the rest of the bunch aren't coming in the foreseeable future, as was made clear in this statement. You'll have to keep buying the latest Nintendo handhelds if you want in on some Nintendo action.
[Via GiantBomb]