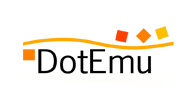 Back in March I sat down with Xavier Liard at GDC 2011 to discuss some titles on the way from his retro-centric studio, DotEmu. One of the titles on the list was the 1988 arcade shooter P-47: The Freedom Fighter, which also saw release on the Amiga, C64, and various other platforms. The game pits you against the air powers of the Axis alliance across eight levels, with a massive boss waiting at the end of each. Today, DotEmu released a demo video showing the game, which will be released under the title P47 The Phantom Fighter, running on the iPhone.
DotEmu is bringing P47 The Phantom Fighter to iOS by way of emulation of the original arcade machine hardware, for a particularly authentic experience. When it hits the App Store P47 will be the fourth release in DotEmu's ongoing Jaleco arcade series, which will ultimately consist of 17 games in all.
In addition to the coming Jaleco games, we're also anxiously awaiting the release of the iOS conversion of Another World, which is being developed by DotEmu and published by BulkyPix.
We'll let readers know when all of these land in the App Store. Stay tuned.