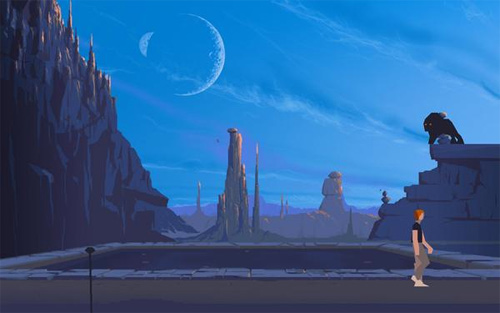 We've just gotten some exciting, breaking news sent to us from a friend and iPhone developer attending the GDC Classic Game Postmortem – Out of this World / Another World, being delivered by long-time developer Éric Chahi.
Chahi's classic filled-vector cinematic platformer Out of this World (Another World in the UK) is coming to the iPad.
Chahi indicated that the game is currently under development and did not provide a timeline to the audience. We'll bring more details on this as we can provide them them and will take a close look as soon as we get our hands on this epic title.
Video, screenshot of the 1991 Amiga original.
UPDATE: BulkyPix has issued a press release on the coming iOS conversion of Another World indicating that the title will be released for both the iPad and the iPhone in the form of a Universal application developed by DotEmu (who brought us R-Type and Golvellius).
"I'm very pleased to work with my developer friends from DotEmu and their partner BulkyPix. The first prototype looks beautiful on Ipad, they are doing a great job on it." said Eric Chahi, creator of Another World.

"We have ported several classics to iOS such as R-Type in the past and we delighted to be chosen to work with Eric on this terrific title. We will put a lot of love and care to insure that the gamers get best user experience playing this game on iOS," said Xavier Liard founder of DotEmu.
I sat down, today, with Xaviar Liard of DotEmu who indicated that Another World for iOS will be his studio's most beautifully executed retro release to date. We will be posting details of other latest new from his studio, shortly.
[ Thanks Keith ]