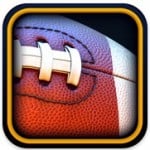 Last month, FuzzyCube Software released iQuarterback 2 [Free] for the iPad and we thought it was pretty fun in our review. Gameplay involved tossing footballs into targets that were either stationary or moved laterally across the field. Just touching where you wanted a pass to go would send the football flying there, and the real fun was in trying to lead your passes to compensate for the moving targets. Being able to correctly judge where to put the ball so it intercepts a particularly fast-moving target was a hugely satisfying experience.
You can now get this experience in a more diminutive package for your iPhone or iPod touch called iQuarterback 2 Pocket Edition [Free]. We checked out Pocket Edition at WWDC this year, and when I first saw it I thought for sure the smaller size would make the game more difficult to play. Then I got my hands on the game and found out that iQuarterback 2 actually plays wonderfully on the iPhone and iPod touch. Both versions of the game were recently updated with improved hit detection on the targets, and the accuracy really feels much tighter now, even on the smaller screen.
As with the iPad version of iQuarterback 2, the Pocket Edition is completely free to download and play. It's ad-supported, and this is one aspect where the Pocket Edition comes up short compared to its bigger brother. Whereas on the iPad the ads run at the bottom of the screen and are almost completely unobtrusive, on the iPhone a full screen ad runs after the end of a round. It's completely in your face and awkward to skip past, so if you like the game then I'd definitely recommend disabling the ads through the 99¢ in-app purchase.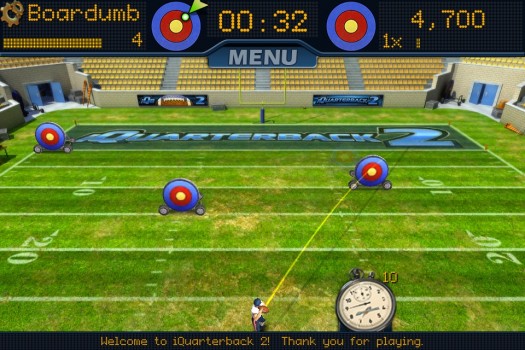 Other than that though the two versions are pretty much identical, and both are a lot of fun. There's a couple of different modes to compete in with Game Center leaderboards and achievements, and there's also some cool unlockable outfits and items which can give you some unique abilities when playing, and are also quite humorous. Best of all is that iQuarterback 2 is free, and the new Pocket Edition plays great, so there's really no reason not to download and check out either version of the game.