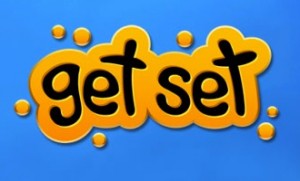 Last week at WWDC, I met up with the guys from Get Set Games to talk about the success they've had with their game Mega Jump [Free] as well as what the future holds for them on the App Store. First of all, they revealed that Mega Jump has just passed the 15 million download mark, which is an impressive milestone to say the least. You might remember that just over a year ago, Mega Jump launched as a 99¢ paid app. It saw a brief sale period at one point, but last August the team decided to make the game permanently free and try to make their money by selling a huge selection of IAP goodies from within the game.
Love it or hate it, this freemium pay model has done extremely well for them in the past 10 months, and they have no plans to revert to a paid app anytime soon. Mega Jump has also received a steady stream of updates during its lifespan, and the newest one that is set to hit any day now will be the game's 15th. It adds a huge new feature to the back end of the game which will allow the developers to send new content to the game through OpenFeint without actually submitting it as an official update. This means that things like new level skins and coin patterns can be pushed out to the game even more frequently and with less hassle. If you're a Mega Jump fan, expect new content to be hitting the game at an even faster pace from update 15 on.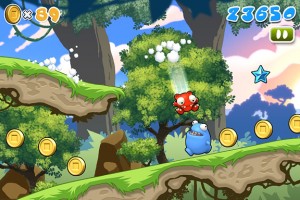 Next, they filled me in on one of their upcoming new games which will be starring the main character from Mega Jump, who I've come to learn is named Redford. Called Mega Run, it will be an endless running style of game using a similar art style from Mega Jump. The version of Mega Run I was able to try is currently just a functioning prototype, but already felt pretty good. The developers are planning to utilize a similar freemium pay structure and update schedule for Mega Run as they have with Mega Jump. It will also include the new back end feature that lets new assets be pushed to the game without an update, so they assured me that there will be plenty of fresh content coming to that title after it launches as well.
One bit of interesting news that came up during my meeting was finding out that Rob Segal of Get Set Games is one of the brains behind the Toronto Game Jam, or TOJam, and that the entire development team participates in this 3 day game jam every year. During the latest TOJam this past May, members of Get Set Games created a game called Seven Jamurai under their pseudonym Team Awesomo. Seven Jamurai was easily one of the most talked about games at the jam, and it's pretty incredible to think that such a high quality effort can be created in just a few short days.
The exciting part of all this is that the team was so happy with how Seven Jamurai turned out that they are in the process of readying the game for an iOS release. Gameplay could be described as Castle Crashers meets Smash TV, as Seven Jamurai is a frantic dual-stick shooter that relies heavily on cooperative play with up to 4 players. They are really fine tuning how all of this will work out in the iOS version, but you can check out this early video of Seven Jamurai from the game jam to get an idea of what it will be like:
Both Mega Run and Seven Jamurai are being developed at the same time, and the developers hope to have them both out on the App Store "in a few months". My big takeaway from my meeting with Get Set Games is that this is a crew of video game-loving friends who have all defined their own roles in the company, which allows them to work together really well. They also have a near endless supply of amazing game ideas, and I could easily write twice as much about their previous game jam titles which were never fully realized but all have immense potential.
I'll keep my fingers crossed that will see these games materialize in some form someday, but for now I'll be looking forward to plenty of new Mega Jump content and both Mega Run and Seven Jamurai hitting the App Store sometime this year.