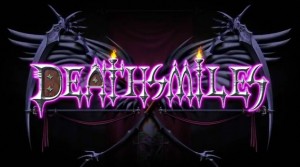 Back in February we learned that CAVE was readying a port of Deathsmiles for the App Store, and just a couple of days later they released a teaser trailer for the game. The trailer pegged a Deathsmiles release for Spring 2011, but with Spring all but gone and no sign of the game on the App Store it's pretty obvious that things are taking a bit longer than expected.
CAVE announced on their Twitter that they will have more information regarding a release date soon, and have offered up a brand new trailer of Deathsmiles as a peace offering for the release running late. Like CAVE's other iOS shmups, Espgaluda II [$8.99/Lite] and Dodonpachi Resurrection [$8.99/Lite], Deathsmiles will come with an iPhone mode in addition to the original arcade mode. The iPhone mode will come with a brand new exclusive playable character named Princess Tiara, and will have its own new storyline as well as original background music.
All of CAVE's iOS offerings are amongst my very favorite games in the App Store, and I really can't wait to check out Deathsmiles when it finally releases. We'll be keeping a close eye out for any new information regarding a release date, and in the meantime you can check out our forums for some Deathsmiles discussion with your fellow gamers.