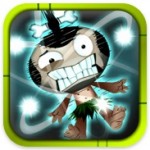 At WWDC this year, I sat down with Dave Castelnuovo from Bolt Creative to talk about what's upcoming in the various entries in the Pocket God series. We've always been fans of Pocket God [99¢] around TouchArcade, but admittedly hadn't quite stayed up to date with the series as of late. After Dave showed me some of the recent new features added into the games, I was really surprised by just how much they've evolved since I've been on Pocket God hiatus.
The biggest bit of news is that the previously iPad-only Pocket God: Journey To Uranus [99¢] is now a universal app and is currently on sale for 99¢, down from $4.99. This version of Pocket God lets you take your pygmies into space to various planets, each with their own unique features. You can also discover mini-games which are based on classic arcade games, like Bump 'n' Jump, Joust, and Tempest 2000.
These mini-games are so incredibly well done that they could practically be standalone games on the App Store, and Bolt Creative has plans for many more in the future. Journey To Uranus plays just fine on the smaller screen of the iPhone and iPod touch, and it has really come a long way since first launching for the iPad back in December. The developers plan to adopt a rapid update schedule similar to the original Pocket God game, so expect a lot more from Journey To Uranus in the future.
Speaking of the original Pocket God, the most recent update added a neat Challenge of the Gods feature to the game. There is a new Challenge Menu which offers a few tasks to discover and complete for each of the 39 episodic updates the game has received during its lifetime. This gives a great reason to go back and fiddle around in all of the previous episodes, and once all tasks for an episode have been completed you'll unlock a God idol for that episode.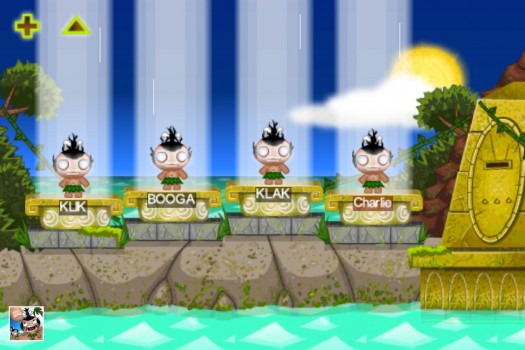 This leads right into what will be in the forthcoming episode 40 which is titled Battle of the Gods. You'll be able to take any of the 39 God idols that have been unlocked in Challenge Mode and then pit them against each other in a battle arena to see who comes out on top. It sounds like a pretty interesting idea, and I'm looking forward to checking out how it works when it launches in early July.
In other Pocket God news, the Pocket God Comics [99¢] app has just received issue #7 of the digital comic based on the game characters. They are also planning on streamlining the comic creation process so as to pump out new issues at a faster rate than they are currently running at. There are more than 20 new issues already in the pipeline, and support for Pocket God Comics is planned for at least the next few years. Also, the Pocket God Facebook game is up to episode 8 and will continue to evolve with new features and gameplay unique from the iOS games.
If you're like me and haven't checked in on what's up with Pocket God lately, you should definitely give both the original and Journey To Uranus another look as I'm fairly blown away with just how far the series has come in recent months.