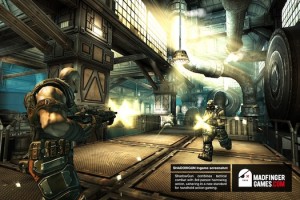 Madfinger has proven in the past that it nail visuals. Take a gander at its last release, Samurai II: Vengeance [$2.99]. The gameplay was incredibly repetitive, but the overall fidelity and rock sold 60 fps framerate were inspiring. It caught eyes on its look factor alone, and I'm thinking the studio is shooting for a similar kind of clamor for its latest game, the just-announced Shadowgun.
Shadowgun is a third-person shooter with a focus on "tactical action." You'll play as the grizzled bounty hunter John Slade in the bombed-out, future world of 2350. The task is to find and "hunt down" a geneticist who must have done something vile to warrant having such a large man on his tail.
Wait, perhaps he's in trouble because he's playing god in his fortress. Like a cyber Dr. Moreau, this geneticist is breeding mutants, cyborgs and other 'enhanced' humanoids.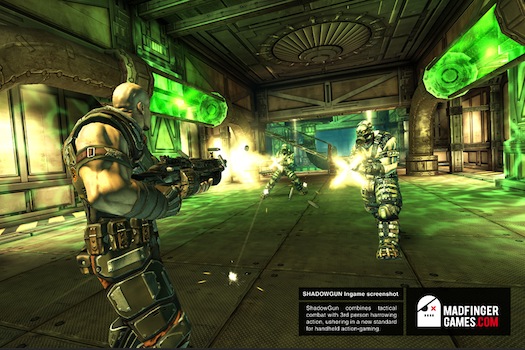 Is this thing on? The visuals are still clogging your synapses, aren't they? And with good reason — this game looks stellar. MADFINGER says its 'ushering in a new visual standard for handheld gaming,' after all.
But, I've got some doubts about these shots. The perspective shown is pulled a little too far and to the right to be of any use to the player. Also, there's a certain sharpness that I have yet to see in any iPad or iPhone game. Madfinger tells us that it, as we're guessing, didn't pull these images directly from the target device. However, it also says that these are indeed indicative of what you'll see on your platform.
We've followed up for more clarification.
Regardless, we'll be keeping our eyes on Shadowgun — as a whole, that is — and will probably give you some impressions down the line.
No price or release date (other than a '2011' window) has been announced at the moment.