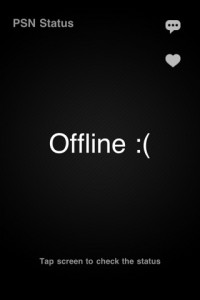 If you are amongst the millions of iPhone owners who also happen to have PS3's, I've got the perfect app for you. Behold, PSN Status [Free]. This free app will tell you both quickly and easily whether or not PSN is up. Sure, it would have been much more useful last month, but it will be handy to keep around if/when PSN goes down again.
Oh also, on the subject of PSN being down, if you're like me and really only use your PS3 for watching BluRays, don't forget to claim your free games. Even if you weren't really affected by the downtime in any real way, you're still eligible for two free PS3 games and two free PSP games. The selection is surprisingly decent, too.
On a somewhat related note- If you're a proud PS3 console warrior and your pride has taken a substantial hit over the last month as you were the brunt of countless "PSN is down" jokes from your Xbox 360-loving friends, don't forget to also download i360Emu [Free]. It's a shockingly accurate emulator of early Xbox 360's, or, it was, before they changed the power-on animation.