Even without Game Center support, Carcassonne [$9.99] was our runner-up Game of the Year last year. But now, with the release of a new update adding said support, what's the GOTY Advisory Board supposed to do? Create a time machine? Nah. How about a "Missed Connections" category? Perfect!
While we figure this issue of great import out, play against some of your Game Center friends in one of the best board game turned video games on the planet. Also, enjoy some of the other perks of Version 2.20, which is sure as sure the last "big" update to the game until the first add-on graces the App Store. New leaderboards, 43 new achievements, score sharing, improved stability, chat time stamping, better power consumption, and an ELO bug fix are all a part of this free update that should see some significant hold-over until game creator The Coding Monkey hits fans with some rivers, Inns, and Cathedrals.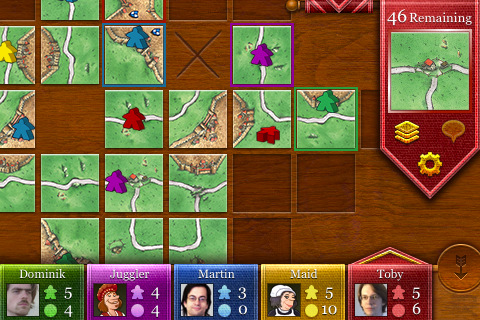 What I didn't mention ever so slyly in the above is that these expansions won't see the light of day for three billion years Standard Internet Time — The Coding Monkeys is cautioning fans that it'll take a couple of months before "The River II" and "Inns and Cathedrals" hit. The good news, however, is that these will be quality bits of content as a result.
It's hard to believe that someone still hasn't checked Carcassonne out, but if you're that dude, give this review a read. Seriously, this is a fantastic title. Just click "Buy app" already. Jeesh.