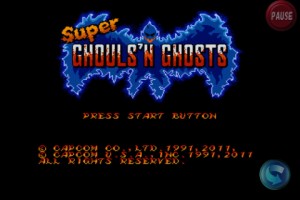 Capcom has been making good on their promise of adding new titles to their wonderful little emulator app Capcom Arcade [Free], and a new update has just hit that adds two new classic titles to the package. They're both winners, too.
The first game is Super Ghouls'n Ghosts, the third title in the original Ghosts'n Goblins trilogy. Interestingly, Super Ghouls'n Ghosts was never an arcade game at all, and first appeared on the Super Nintendo back in 1991. That's not a bad thing at all though, as it was easily one of the finest action-platformers from that system.
It's also hard as nails, just like the previous games in the series, and the virtual controls don't help matters any. They're totally workable, but these games were brutal even with the precision of physical controls, and if you're able to beat Super Ghouls'n Ghosts on iOS then you have won my admiration and deserve some sort of major award.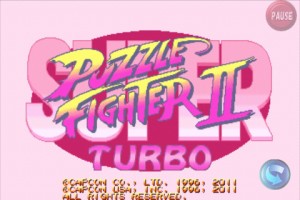 The second new title is Super Puzzle Fighter II Turbo, the competitive gem matching game that features chibi-style characters from Capcom's various fighting games. Considering how many quarters I pumped into this game in arcades back in the day, I'm ecstatic to now have a full version that fits in my pocket. It features 3 different single-player arcade modes against AI opponents, but best of all it also has local Bluetooth multiplayer for two players. Super Puzzle Fighter II Turbo is decent fun solo, but is absolutely fantastic with a real life competitor.
Super Puzzle Fighter II Turbo also controls pretty well on the touch screen. There's an option for having a smaller screen size with onscreen virtual buttons around the border so as not to cover up the action. Or, you can go full screen and use simple swipe and tap gestures to control your gems. Both options work fine, though the swipe method can be a bit imprecise when the action speeds up in the game.
As we detailed in our review of Capcom Arcade, the game is initially free to download with 3 free tickets given out per day that are each good for one play of any game. You can also buy token packs as IAP which give you a single play per token, or you can just outright buy an entire arcade machine which gives you unlimited play of that game. To celebrate this latest update, you can currently get Street Fighter II, 1942, 1943, Ghosts'n Goblins, Ghouls'n Ghosts, and Commando for the sale price of 99¢ each. The rest of the games, including these two new ones, can be purchased for their regular price of $2.99.
I really like Capcom Arcade, and was overjoyed when they added Final Fight last month, one of my all-time favorite games. I'm glad to see them following that up with another set of solid titles, and with the extensive catalog of excellent games Capcom has under its belt I can't wait to see how Capcom Arcade will grow and expand in the future.