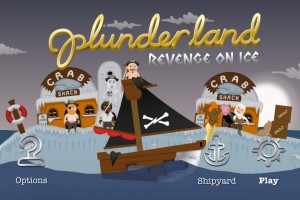 Last Summer, we were treated to a fun and unique title called Plunderland [$2.99] by developer Johnny Two Shoes. Plunderland is a side-scrolling game that lets you control a ship full of pirates as you battle enemies on the open seas and pillage unfortunate island inhabitants. There's elements of Pocket God [99¢] in how you can manipulate characters and environments, and combat is similar to artillery games where you set the trajectory of your cannon fire to take out enemy ships and sea creatures. This is all topped off with incredibly charming graphics and sound.
We really liked Plunderland when we reviewed it last July, and in the months following release the game was updated with new modes, Game Center integration, universal iPad support, and many tweaks that ironed out all of the issues we originally had with the game in regards to finicky controls and camera zooming.Things have been pretty quiet on the Plunderland front for the past several months, but over the weekend a substantial update was released that adds a brand new campaign to the game.
This new campaign, dubbed Revenge on Ice, takes place in icy waters and adds 8 new levels to play through as well as new enemies, weapons, and improved graphics and sound. You'll need the new Ice Breaker ship to access these new levels, which you can purchase with in-game gold after completing the 3rd campaign. Alternately, if you're feeling lazy, you can buy a 99¢ IAP that will unlock every level in the game and give you the Ice Breaker ship.
Other new additions in this update include proper rotation based on your device's orientation, a welcome new pause method where you can touch and hold the upper left corner of the screen to pause rather than tilting the entire device, and optional touch controls for the iPad if you felt tilting the larger device to play was a pain. I enjoyed the heck out of Plunderland ever since its release last year, as did many players in our forums, and it's nice to see it getting some update love all these months later.
If you already own Plunderland make sure to get this latest update to check out the new Revenge on Ice campaign. If you missed out on the game before or just haven't decided to take the Plunderland plunge yet, then it's definitely one worth taking a look at.