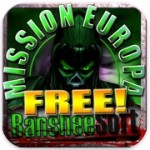 Last month, indie developer Ryan Mitchell and his studio Banshee Soft released Mission Europa into the App Store. Combining a deep RPG experience with a first-person shooter, Mission Europa is really unlike anything currently available for a mobile platform like the iPhone. Now you can get a taste of this with the recently released lite version of Mission Europa.
The complete game is spread across 5 episodes and 170 missions, with 50 different levels to explore and at least 50 hours of gameplay. There are a ton of different armor types, equipment, combat skills, and weapons to customize your character with, not to mention an item and equipment creation system that expands that even further. Beyond the impressive single player offering is an online battle arena where you can take your created character into battle against players from all over the world, adding what amounts to endless replay value to the title.
Strictly speaking in terms of content and depth, Mission Europa is unmatched, and the fact that the entire game was built from scratch by one person over the course of 2 years is an insane accomplishment to say the least.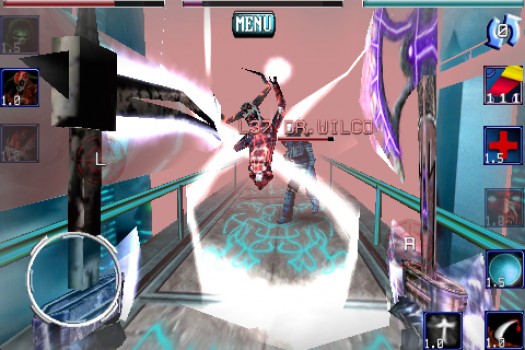 Unfortunately, the complexity and scope of the game also means that Mission Europa will only appeal to a certain kind of player. This would be a complicated game on PC or consoles, and the fact that it's on a mobile platform and squeezed onto a tiny screen only compounds this issue. The screen is incredibly cramped with control and HUD elements, and the menus and general user interface feel clunky to use. We wanted to enjoy Mission Europa when it came out, and invested many hours trying, but found we could just never get into the game.
That's not to say everybody will have those feelings though, as Mission Europa certainly does have an audience. It has one of the most popular threads in our forums which is always abuzz with discussion of the game, as well as a very active item trading thread where players can swap different items and equipment from the game. Ryan has also been extremely active in our forums and on his own website taking suggestions and feedback about the game in order to shape the best experience possible.
Because opinions on Mission Europa have been polarized and it is a very niche title, it's great to see that a lite version has been released so you can decide for yourself if it's your particular cup of tea. Mission Europa Free Edition [Free] contains the first 2 levels of the game and over 2 hours of gameplay, which is more than enough time to see if you would enjoy the full game or not.
If you do like what you see, the full edition comes in 2 flavors – Mission Europa Standard Edition [$3.99] which is the base game with additional episodes available as IAP, and Mission Europa Collector's Edition [$9.99] which includes all episodes and access to every level right of the bat as well as the ability to wear enemy armor. Either way, I'd definitely suggest at least downloading and trying out the lite version of Mission Europa, as it's an impressive offering as a mobile title and provides more content than practically any other game in the App Store.