It's been a bustling time for acquisition news in the past half a year or so with the popularity and success of mobile gaming rocketing through the roof and mobile gaming companies making moves to put themselves in the best position to ride the wave of continued growth. The big news last fall was developer Ngmoco being purchased by Japanese-based DeNA to the tune of $400 million. Around that same time Chillingo was purchased by EA, later in the year Zynga acquired NewToy, and back in January Firemint acquired fellow Australian developer Infinite Interactive.
All of this activity left everybody wondering what the next big acquisition would be on the mobile scene, and today we learn that the extremely popular mobile social network OpenFeint has been purchased by Japanese company GREE.
OpenFeint has grown by leaps and bounds since first being founded in August of 2008. While it rapidly became the dominant social platform for iOS gaming, it expanded its reach by extending to the Android platform and currently maintains a userbase of more than 75 million players across both mobile operating systems. OpenFeint is used in more than 5000 games and has over 19,000 registered developers, and is the largest mobile social network in the US.
Japanese-based GREE is the leading social platform for mobile in Japan with a userbase of 25,000 players, and is the fastest growing technology company in that country. The two company's combined user base of 100 million positions them as the largest mobile gaming social network in the world.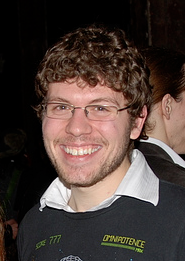 Despite the purchase, it appears that OpenFeint will continue to operate much as it always has. The entire OpenFeint team and Founder/CEO Jason Citron (pictured right) will retain their roles with the company, and their plans to open additional offices internationally and double their current staff in 2011 will continue.
This purchase gives GREE a quick entry into the US market with an already established company, and OpenFeint will benefit from GREE's additional expertise at developing and expanding social gaming platforms. GREE has purchased OpenFeint's outstanding stock for $104 million, but will contribute additional capital beyond this towards improving and growing the existing OpenFeint service.
There are currently no plans to merge the OpenFeint service with GREE's to create one uniform service, rather they will tailor each of their products to specific regions. We expect to hear much more about the future plans of OpenFeint post-acquisition and we'll bring you any new developments as they happen.
Congrats Jason!