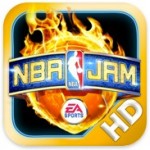 Back in February, EA Mobile released NBA Jam [$4.99/Lite] into the App Store for the iPhone and iPod touch. It was based on the well received new version of the long-standing series that hit home consoles late last year, and for the most part made the transition extremely well to iOS. The key missing features were a couple of the less popular game modes and any form of multiplayer, but the core campaign along with all of the hidden bells and whistles remained intact and as fun as ever. Here's a brief synopsis taken from our original review of NBA Jam from February:
The familiar NBA Jam gameplay returns here featuring a relatively rule-free game of 2-on-2 basketball with an emphasis on pulling off insane physics-defying dunks and ridiculous shooting sprees. Besides adhering to a 24 second shot clock and a no goaltending rule, pretty much anything goes in NBA Jam. Any player that makes 3 consecutive shots will then be "on fire" and during this time will make a higher percentage of shots, have unlimited turbo, and be immune to the goaltending rule. If you've played NBA Jam in the past, not a lot has changed here, but that's most likely for the best.
The iOS version of NBA Jam uses a smart control system that works incredibly well. There's a virtual stick for movement, a turbo button in the opposite corner, and based on if you're on offense or defense a button for passing/stealing and another for shooting/blocking. Using your limited turbo meter not only increases your player's speed but also enhances your other moves, like turning a simple steal attempt into a full-blown shove of an opponent. This is cleverly and elegantly handled by holding down turbo and then sliding to one of the other two buttons, which works great in practice.
Today, the game is now available as a native iPad version appropriately titled NBA Jam for iPad [$9.99]. Aside from having graphics that are beautifully formatted for the larger screen of the iPad, it contains everything from the iPhone and iPod touch version including the recently updated player rosters. NBA Jam was already wonderful on the iPhone and iPod touch, and it's just as good if not better on the iPad. The game looks fantastic and crisp on the large screen, and the brilliant control system works just as great as it did before.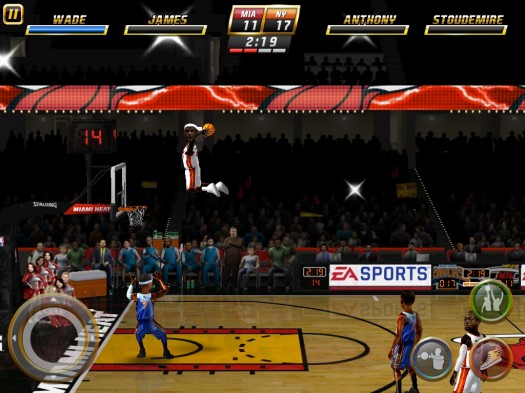 One puzzling omission from the original release of the iOS version of NBA Jam was the lack of multiplayer, since NBA Jam has always been a great party game to play with friends. This has thankfully been rectified, as the iPad version has launched with multiplayer and the iPhone and iPod touch versions have just received an update adding a multiplayer mode as well. Multiplayer is played locally over Bluetooth or WiFi, and can be played with mixed devices, so iPhone or iPod touch owners can get busy against their iPad owning buddies. The multiplayer seems to work well in my limited testing, and while it would be cool to have online multiplayer there's really nothing like taking it to the rack against a friend and being able to trash talk right to their face.
No matter which device you play it on, NBA Jam is a ton of fun on iOS, and I'm really happy to see multiplayer finally make it into the game. Just in case you've been on the fence about NBA Jam, there's a recently released lite version for you to try, and if you already own the iPhone and iPod touch version make sure to grab the latest update to give the new local multiplayer mode a spin.