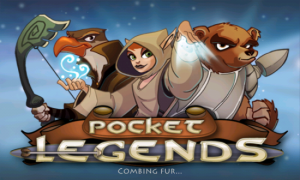 It's crazy to think that Pocket Legends [Free] came out a year ago. I've heard that one year equals seven in dog years, but with how fast the App Store moves, I'm not even sure what one App Store year would equate to. Lots more. Anyway, Pocket Legends is a free to play MMO of sorts that works quite a bit like Guild Wars both in actual gameplay and with the amount of expansion content they have for sale.
Well, to celebrate the game's anniversary, all of that expansion content is free for a limited time. Better yet, all of this is entirely cross platform and universal, so you can play with friends online regardless of whether they own an iPhone, iPod touch, iPad, or even an Android device. We reviewed the game last year, but honestly, so much has changed that you're probably better off spending some time on the official quick start guide to get an idea of what the game is all about now.
This promotion will persist for the next two weeks and allows complete access to Balefort Castle, Fathom Crypts, The Lost Expedition, The Ancient Swamps, Balefort Sewers, and The Alien Oasis Trilogy areas. In other words, you'll be able to play through the entire game from start to finish for free. These areas get switched back to their previously paid status on May 4th, so if you actually want to blow through the game for free, you better do it before then.