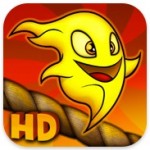 Last December we reviewed Big Blue Bubble's puzzle game Burn the Rope [$1.99/Lite] and found it to be a unique and challenging experience. Less than a month later, an update brought new levels, Game Center integration, and several gameplay tweaks that took care of most of the complaints in our original review. Then, several weeks later, another update added more new levels, additional gameplay elements in the form of new bugs and bonus rounds, and Retina Display support. What started out as a quirky little puzzle game quickly evolved in a matter of weeks into one of the most fun, content-filled, and beautiful games on the App Store. Many people felt the same too, as Burn the Rope spent a significant amount of time hanging around the top paid charts in the App Store.
Now this game is available in an iPad native version called Burn the Rope HD [$4.99] which encompasses all the new content and features that have been added into the iPhone and iPod touch version since its release. My first concern when thinking about playing Burn the Rope on an iPad is that it doesn't sound terribly fun to spin a larger, heavier device around in my hands, which is a main component of the gameplay. Luckily Big Blue Bubble has thought about this as well, and has come up with a simple but perfect solution to this problem.
In Burn the Rope HD, you simply keep the device in one position and spin the puzzle itself around by using the touch screen. This works remarkably well as I can just lay the iPad in my lap and play each puzzle using a single finger, and the game is especially fun on the larger screen. Of course, if you're in the mood for a bit of an arm workout (or your name is Brad Nicholson), you can turn tilting on in the options and play the iPad version just like the iPhone version. I tried this out and it works just fine, but my puny arms much prefer the default method of swiping the screen.
If you are the owner of an iPad and haven't yet given Burn the Rope a try, the new Burn the Rope HD is highly recommended. The graphics and gameplay are fantastic on the larger screen, and there's enough levels to keep you busy for a long time, not to mention achievements and leaderboards through Game Center. I've actually been having a great time replaying through the game on the iPad, and Burn the Rope HD is easily one of the best puzzle games you can get for the device. Make sure to check out our previous coverage of the iPhone version for more details, or stop by our forums for further impressions from our members.