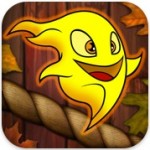 We first reviewed Big Blue Bubble's Burn the Rope [Link] back in late December, and really enjoyed the unique gameplay despite a few minor complaints. Among these were the lack of Retina Display graphics or Game Center, and an annoying bug that made it difficult to burn a rope around tight corners, thus making it harder to 100% a level for a gold medal. Then last month, Burn the Rope received a substantial update taking care of most of these complaints. Game Center was integrated with leaderboards and achievements, that nasty bug that prevented 100% completion on levels was fixed, and 16 brand new levels were added to enjoy.
I had previously said when the last update came out that the only thing left that I wanted to see out of Burn the Rope was support for Retina Display, and with today's update my final demand has been met. The Retina Display support really makes the graphics pop, but Big Blue Bubble didn't stop there. This update also contains another 16 brand new levels, as well as 3 new insects to deal with and new bonus rounds to complete.
The first new bug is the firebug which will explode when ignited by your flame and burn everything within its blast radius. Next are electric bugs which travel in pairs and once one is ignited it will shoot a bolt of electricity to its partner that will start an additional flame burning in a different area of the puzzle. Finally, water bugs will extinguish a flame that comes into contact with them, so you must make sure to have another flame burning somewhere before encountering them.
Also new in this update are bonus rounds which can be played upon completion of certain levels in the campaign. Here you're given a puzzle that is crawling with a ton of bugs and the goal is to try and burn as many of them as possible before a short timer runs out. These levels are a fun break from the normal ones that can require some intense strategizing.
Burn the Rope was a fun puzzle game to begin with, and it got even better with these past two updates. Now that Retina Display support has been added, I can't really see how it can be improved any further aside from just adding more levels to play through. There are now a total of 112 levels including all the new ones, so Burn the Rope is definitely a good investment for the amount of content it contains. The game is currently still on sale for 99¢ though the developer has stated the price would to up to $1.99 with this latest update, so it can change any time. If you have yet to grab Burn the Rope, now would be a great time to do so with so much content added since the initial release.