Last month we caught wind of the trailer for Liqua Pop [$1.99], a new color-matching game from iChromo and EA Mobile. We were really impressed with the stunning visuals in Liqua Pop, with bright colors and realistic fluidity of the water droplets used in the game. During GDC, we were able to check out the game in person, and last week Liqua Pop finally went live in the App Store. After playing with the game for the past few days, I can safely say that Liqua Pop achieves what so few games are able to on the App Store anymore: it manages to make a color-matching game interesting again. Unfortunately the package is fairly bare-bones, but the potential for Liqua Pop to take its novel twist on the genre is huge.
In Liqua Pop, the play field is a leaf, with multi-colored droplets falling from the top of the screen. Same color drops can be dragged into one another to create larger drops, and when four of the same color have been combined, a timer ticks down inside the drop. When the timer ticks out, the drop pops, clearing it from the screen. Alternately, a quick flick of the device will pop a large drop, or a double tap will reset the countdown timer so you can time the pops with others to form combos. Each popped drop advances a tiny tree frog named Toadie up a stem to the left of the screen, and a level is completed when enough drops have been popped to move Toadie to the top.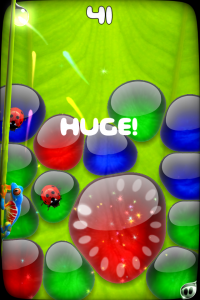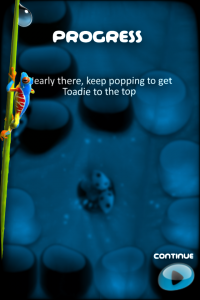 As you progress in Liqua Pop, some drops will come with small bugs inside that will affect the gameplay when released. Some are helpful, like ones that change all surrounding drops to the color of the one that was just popped for easy matching, or bomb bugs that pop all nearby drops when released. Others aren't so helpful, like bugs that turn all surrounding drops into "void" drops that can only be cleared with bomb bugs.
The gameplay works very well, and dragging drops together using the touch screen feels very natural. I'm not usually a fan of having to shake my device in a game, but in Liqua Pop the function is very easy and unobtrusive, and allows for quick popping of bubbles when the screen is filling up and your fingers are busy making matches.
The only problem I have with the game is that there's but a single mode which features a linear progression through increasingly more difficult levels. They start to get especially challenging around the 20 level mark, and if you find yourself unable to complete a level there's nothing to do but quit and start over from the beginning. An endless mode or some sort of challenge mode would go a long way towards increasing the longevity of Liqua Pop, and this is the type of game that could really benefit from an online system like OpenFeint or Game Center.
Just to be clear, though, I like Liqua Pop a lot. The visuals are absolutely fantastic, with support for Retina Displays, and the music is minimal but calming and serene. There's something very relaxing about playing the game, that is until you get to a level that moves so quickly that you can't keep up — then it kind of stresses you out. Liqua Pop's base gameplay is so solid and unique that, with just a few additions, it could be one of the premiere matching games around. As it is now, it's still a novel game with plenty of enjoyable points, and although it's missing some variety, I still think it's worth checking out.