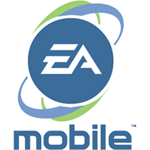 During GDC, EA Mobile held a press event to display a number of coming titles under their label as well as from Chillingo. In fact, Chillingo co-founder Chris Byatte was on hand, chatting with folks and spreading a bit of wit during demos of the various games.
At the event, I took part in demonstrations of several iOS titles that will shortly be landing in the App Store, from both studios. The following is a brief run-down of the various games from EA Mobile that I spent time with.
Without further ado…
Battleship for iPad
In late 2009, EA Mobile released an iPhone version of the classic naval strategy game Battleship [link] for the iPhone. Next month, a native iPad version of the game will set sail, bringing with it enhanced visuals, detailed cutscene animations, iPhone to iPad WiFi / Bluetooth multiplayer and an exclusive (to iPad) two-player side by side game mode.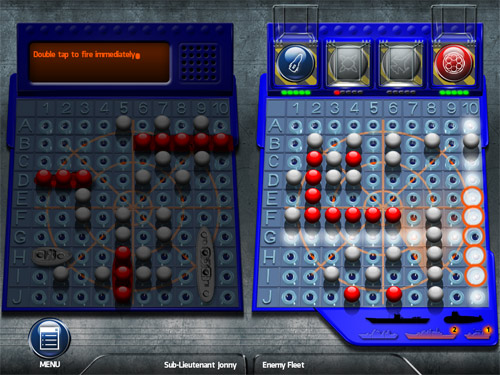 Shortly after the April release of Battleship for iPad, an update to the iPhone version will be hitting the App Store.
Max & The Magic Marker
EA Mobile's Max & The Magic Marker, winner of the IGF 2010 D2D Division Award,  is a line-drawing puzzle platformer due later this month for both the iPhone and iPad. The game puts you in control of Max, who must avoid obstacles, contend with enemies, and solve puzzles in an effort to get through 58 levels across three different game worlds to defeat the evil monster bent on wiping out Max's drawings.
The core mechanic of the game is Max's magic marker, which allows you to draw objects on the screen that come to life and fully interact with the game world. From simple single-line bridges to more complex shapes used to crush enemies, the marker's drawings take on full physics properties and allow Max to avoid various roadblocks and get to the collectible golden spheres spread throughout the levels. Ink can be collected along the way to keep the marker flowing, and shapes drawn, once having served their purpose, can be reclaimed for the reuse of their ink.
Max & The Magic Marker was originally a 15-level WiiWare title. The iOS release has split these levels into a larger number of shorter levels that are better suited to gaming on the go.
Liqua Pop
A game that looks quite lickable (well, aside from the bugs…), EA Mobile's upcoming Liqua Pop is a color-matching puzzle game with lovely, fluid graphics and animation. Your task is to match like-color droplets by dragging and merging them together to form a large enough droplet to kick off its elimination timer. A shake to the iPhone will get that done earlier, but sometimes it's best to wait, as the larger a droplet the more points are awarded as it blinks out. Don't clear the droplets fast enough and the screen fills up and it's game over.
The real object of the game is to get your friend Toadie, who lives on the left side of the screen, to the top of his leaf by releasing bugs (seven types in all) from within certain of the aforementioned droplets. With the release of most bugs, Toadie inches upwards, but certain bugs leave behind obstacles that slow down your progress. When Toadie reaches the top, it's on to the next level.
Liqua Pop is certainly one of the most polished color-matching titles I've seen, with its colorful Retina-supporting visuals and convincing animation. Facebook integration allows scores to be shared with friends.
Liqua Pop is set to land in the App Store sometime later this month.
Draw Jump
Draw Jump is a sketch-stylized game of how-high-can-you-go, where you keep little rocket man Cosmo bouncing upward by drawing strategically placed trampolines below him. Cosmo starts out on Earth but, with a bit of savvy sketching, it's out into the cosmos with him, moving upwards through six different environments across 11 levels. There are trees, planets, stars and suns to be seen along the way, as well as sunflower fuel cells to be collected for an energy boost.
The game's visuals are based on Japanese "pop" inspired artwork. Leaderboards along with Facebook and Twitter integration keep you striving for the highest altitude.
Draw Jump will bounce into the App Store in late March or early April for both the iPhone and iPad.
Coconut Dodge
Coming in late March or early April for both iPhone and iPad, the aptly titled Coconut Dodge for iOS is a conversion of the popular PSP / PS3 game to which PSNstores gave a 10/10 rating. The game puts you in touch control of Clawrence the crab who must meander his way through 30 levels of tropical-themed airborne coconut mazes, bouts of beach ball bouncing, and treasure grabbing.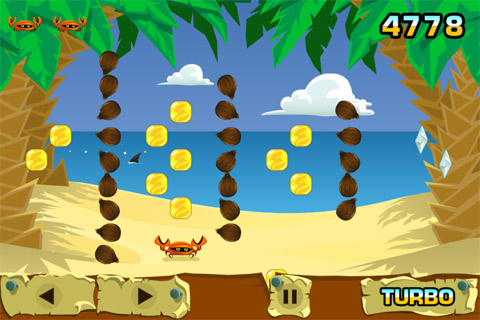 The game features an Arcade mode where score is king, as well as a Maze Master mode that challenges you to intricately maneuver a gauntlet of oncoming obstacles. Leaderboards and Facebook integration are rolled in.