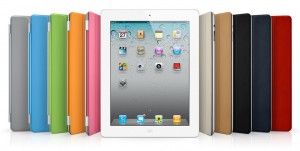 With the iPad 2 launching today, many developers are trying to catch the wave of new customers who will be looking for things to try on their shiny new device by putting their iPad games on sale, which is typical of any iOS product launch, holiday, or really any other reason they can think up to throw a sale party. The usual suspects are here, with big sales from both EA Mobile and Gameloft, and there's a number of other enticing sales on miscellaneous titles from big and small developers alike.
EA Sales:
Gameloft Sales (All Games 99¢):
Miscellaneous:
Spider: Bryce Manor HD, $4.99 → 99¢
Pix'n Love Rush DX, $1.99 → 99¢
Meow Meow Happy Fight HD, $2.99 → 99¢
Pro Zombie Soccer Apocalypse Edition, $1.99 → 99¢
Babylonian Twins HD Premium, $4.99 → 99¢
Psychoban HD, $2.99 → FREE
Worms HD, $2.99 → 99¢
Homerun Battle 3D for iPad, $4.99 → 99¢
Enigmo 2, $2.99 → FREE
Pocket God: Journey to Uranus, $4.99 → 99¢
TowerMadness HD, $7.99 → FREE
Inotia 3: Children of Carnia, $4.99 → 99¢
The 7th Guest for iPad, $5.99 → $1.99
Speedball 2 Evolution, $3.99 → 99¢
As with all sales on the App Store, these prices are good as of this writing but are subject to change at any time. Your best bet to keep up with the constant price fluctuations in the App Store is to download the universal AppShopper app which allows you to maintain a wish list of games and notifies you of price changes or updates with push notifications. You can also just use the plain old AppShopper.com website or our price drops and freebies forum where our members do an excellent job of keeping on top of the latest discounts.
Whether you're upgrading to an iPad 2 today or just hanging on to your last year's model, definitely take advantage of all these great sales going on for some excellent iPad titles.