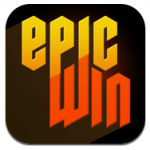 This isn't a game by any means, so if you're looking for the next cool iPhone game to download, keep on scrollin'. If you like games, RPG's specifically, and have always wondered what would happen if you combined the functionality of a to do list app with an experience bar, Epic Win [$2.99] is right up your alley. Created by Rex Crowle, responsible for the visual design of Little Big Planet, and Tak Fung, the developer behind MiniSquadron [$2.99 / Free], Epic Win is a list keeping app by gamers for gamers.
On your first launch of the app, you choose one of five avatars. Three are unlocked initially, with the other two available via in-app purchase. Which avatar you choose has no bearing on how the rest of the app works, and you can change them at any time in the options. Tapping the pencil icon opens up a new task, at which point you set its "epicness" and date along with what type of feat said task is. These feats range from feats of strength, stamina, intellect, social, and spirit.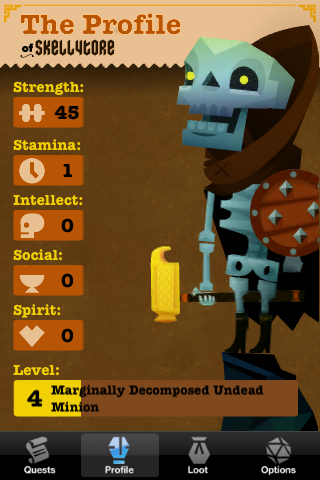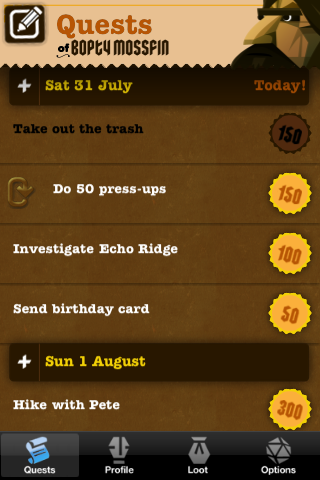 As you complete items off your to do list, you're awarded experience for the level of epicness you set and your avatar gains a point on your profile page for the type of feat the task was. When each task is completed, your dude travels down a curvy road, and eventually is awarded various pieces of ridiculous loot… And that's really all there is to Epic Win. Sure, there are more full featured gettin' things done apps on the App Store, but how many of them have loot or experience bars?
Yeah, you can technically "cheat" in Epic Win really easily by just constantly making and completing tasks, but the "game" portion of Epic Win really has no competition, and only serves as a neat little bonus for checking things off of a list. If you've found yourself looking for some more motivation to get things done on your to do list, and filling an experience bar is your carrot on a stick that will actually lead you to do things, Epic Win is what you need.