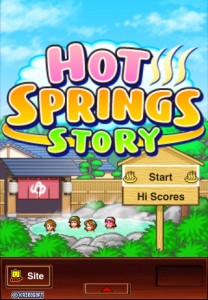 One of the surprise hits from last year was Game Dev Story [$3.99/Lite] from Kairosoft. This quirky simulation game allowed you to create your own game development company and release a series of titles across multiple platforms. Game Dev Story was littered with all kinds of references to the real history of video games, making it especially appealing to long time gamers like myself. We loved the game when we reviewed it last October, and Game Dev Story went on to suck countless hours from iOS gamers ever since.
Coming off the huge success of Game Dev Story, Kairosoft has talked about their plans to bring a sequel to iOS in the distant future. Then earlier this year, they launched an interesting looking title called The Game Dealer in the Japanese App Store. Similar to Game Dev Story, The Game Dealer has you heading up a brick and mortar video game store and dealing with all the simulation elements that go along with it.
We speculated that The Game Dealer would be the next to get a localized US release, but earlier today we were surprised to see that Kairosoft's US follow-up to Game Dev Story is instead a game called Hot Springs Story [$3.99]. In Hot Springs Story, you (unsurprisingly) manage a Japanese hot springs inn, building it out to your liking and attracting customers to patronize your establishment. AppBank has a gameplay video of the Japanese version of Hot Springs Story to give you an idea of what it plays like:
Hot Springs Story has been available in the Japanese App Store since December, and seeing as how it was their follow-up release to Game Dev Story in Japan I still think we'll end up seeing The Game Dealer localized as well in due time. For now, though, you'll be able to live out your fantasy of running a relaxing hot springs resort, just as you've always dreamed… right? Early impressions in our forums are positive, noting that the interface and mechanics are nearly identical to Game Dev Story but with a few welcome enhancements like zooming and landscape display.
The gameplay appears to be just as engaging as well, and chances are if you liked Game Dev Story then you'll get similar enjoyment out of Hot Springs Story. Just don't start playing too close to your bed time if you value sleep. We'll have more on Hot Springs Story once we're able to break away from our GDC shenanigans long enough to engulf ourselves in the world of hot springs management, but you can grab the game right now for an introductory sale price of $3.99.