Oh, let's not beat around the bush. Apple is poised to announce the iPad 2 on March 2nd, 2011. The tech giant's marketing department has been firing off invitations to select outlets, including our very own, for an event scheduled for 10:00 AM at the Yerba Buena Center for the Arts. As you'll see in the promotional art blasted our way, Apple is making it plain that it is indeed announcing a second-generation iPad on the heels of numerous rumors indicating that it would.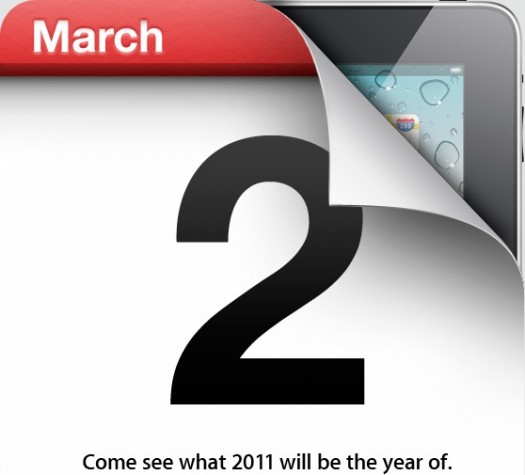 Not too subtle, eh? That's why I'm biting the bullet here and avoiding "safe words" like probably, presumably, and all that jazz.
One thing we're definitely not sure of is what will be included in the new iPad. An on-board camera and a potentially even a SD slot seem like a safe bet, but there's a lot of speculation over the processor, screen, and potential mystery ports. Some people are suggesting it'll boast a Retina Display and a beastly dual-core SGX543 GPU, but we won 't know for sure until March 2nd. We'll be there, of course, and we hope you'll join us for a week of insane coverage both at GDC and now at this Apple event.