Remember the iControlPad? We've been following its development since mid-2008. In early 2009, they released a video of the unit being used, and in November it was revealed that the product had undergone a complete redesign. Things have been relatively quiet on the iControlPad front since then, until recently, when they announced that they're taking pre-orders and plan to ship the original run of units in a week.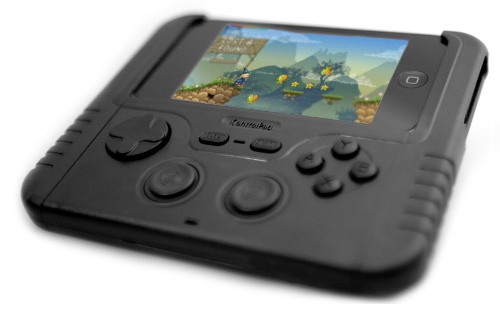 The bad news? Well, they make no attempt to hide the fact that you're going to be an early adopter, and admit that software that supports it will be scarce initially. There's also the fact that the iControlPad will set you back a hefty $74.99, and until developers start supporting it, using it will require jailbreaking.
The iControlPad does have some cool features though. First off, aside from its d-pad it sports enough buttons and analog nubs to make anyone in to emulation smile, and its internal firmware is completely upgradeable to support future features or workarounds to bypass various restrictions. Instead of any kind of proprietary dock port, it uses Bluetooth so it can work with basically any smartphone, console, or computer capable of connecting to it. It's also designed in a way that it's compatible with a number of different devices via a clever clamping system to hold all kinds of phones, and presumably other types of clamps could be released if a major form factor switch occurred.
We're trying our hardest to get our hands on an iControlPad for some kind of in-depth preview/review coverage, so if you're suffering from sticker shock at the $75 price tag, it might be best to wait until we run it through its paces before taking the plunge.