iControlPad is working on a hardware accessory that that will give the iPhone and iPod Touch PSP-style buttons for playing games.
Realise the full potential of the iPhone by adding real controls. Your iPhone just slides in and locks in to place via the serial port, there are no modifications needed and you can remove it at any time.
The developers claim that full source code and SDK support will be coming, and is "already supported by some of the biggest iPhone devs". A small photo of an early prototype is shown: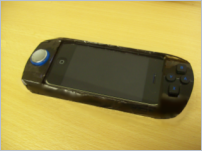 Pricing and availability have not yet been announced. They appear to still be in the prototyping stage and plan on including "Start" and "Select" buttons in the final release.
[via Engadget]