I can hardly believe it myself, as the past year has just flown by, but GDC is once again right around the corner. Taking place in San Francisco, California starting February 28th and running until March 4th, GDC is basically the event to be at if you're a game developer of any kind. In recent years, GDC events have almost completely been taken over by iOS developers. If you're a TouchArcade reader, expect an overwhelming avalanche of cool iOS gaming news and previews that week just like in 2009 and 2010.
If you're an iOS developer, read on.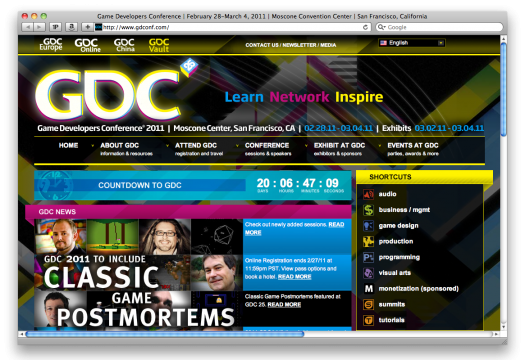 First off, if you're on the fence regarding whether or not you're attending GDC, I really can't think of a better event to go to as an iOS developer. The amount of networking there is to be done there is absolutely insane, as the event is absolutely loaded with many different media outlets and oodles of like-minded developers eager to share and discuss ideas. It's also not too late to register, find a hotel, and score some plane tickets that aren't ridiculously expensive yet.
If you're an iOS developer and already plan on coming, awesome. We'd love to meet up with you if you have something new, cool, and/or exciting to show us. Shoot us an email at [email protected] with "GDC 2011" somewhere in the subject so it gets picked up and properly highlighted by our email filters. We'll set up a meeting, likely at or near The Marriott, and we'll see you there.
If you just want to say "Hello!", or you enjoy drinking, we'll be hosting a get together (or "mixer" I suppose the cool kids are calling them now) at Bin 55. Bin 55 is the bar right inside the previously mentioned Marriott's lobby, you can't miss it. We'll be there from 8:00 PM Wednesday night until they kick us out. When you get there, track down someone from TouchArcade and we'll give you a fancy TouchArcade tyvek bracelet which will get you access to all the beer and/or mixed drinks you can (safely) drink.
We're totally excited for GDC this year, and can't wait to see everyone there. Incidentally, the first day of GDC is also my birthday, so if you schedule a meeting with us after the 28th and I suddenly seem wiser, that's likely why.