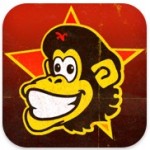 In late 2008, when App Store gaming was still fairly new, one title that we really liked was RealArcade's Tiki Towers [99¢/Free]. It was a bridge building physics puzzle game that took more than a few cues from World of Goo, but back then World of Goo was not available on iOS and Tiki Towers provided a similar experience that was executed well with cute graphics and clever level designs. Since that time we've seen additional titles in the same vein like Moonlights [$1.99/Lite], Bridge Odyssey [$4.99/Lite], and of course the official port of World of Goo [$4.99] for the iPad.
That hasn't stopped RealArcade from releasing a sequel, however, and more than two years later we now have Tiki Towers 2 [$4.99]. It doesn't stray too far from the formula of the original, and like any good sequel it builds upon its solid gameplay foundation by adding several welcome enhancements. There are 30 brand new levels to tackle in Tiki Towers 2, with a new overworld map system for accessing them. Some levels will have multiple exits which affect what path you take through the overworld.
Each level also tracks how many bamboo sticks you use in making your structure, with a reward for using less than a set amount. This feature was only available in the original after completing the entire game, but is a part of each level right from the beginning here and adds a nice dose of replayability beyond just collecting every banana when completing a level. Tiki Towers 2 also has improved graphics with more detailed environments and Retina Display support, as well as Game Center integration for unlocking 10 achievements.
If you enjoyed the first Tiki Towers, or even any of the previously mentioned similar games, then chances are you will enjoy Tiki Towers 2 as well. It isn't too different from the first game but the few improvements it does have fit into the original gameplay well, and it really is a lot of fun building precarious structures for your little monkeys to cross. One thing to note is that it does come in at a higher price than the original, but includes universal support for the iPad. There's a discussion thread with further impressions in our forums, and Tiki Towers 2 is a solid choice if you're looking for a fun new physics puzzler.