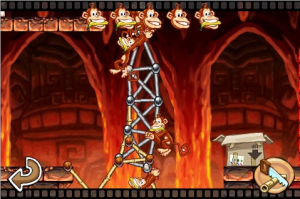 Late last month RealArcade released a unique, physics-based builder title (kind of a more architectural slant on Lemmings) for the iPhone and iPod touch.  Tiki Towers [App Store] challenges the player to use a limited number of bamboo pieces to construct ramps, bridges, and the like to get a boxfull of monkeys from point A to point B.
Travel between five tropical islands leading your tribe of monkeys to safety by building bridges and towers out of bamboo, coconuts, and vines. If you're not careful, your structures will collapse and your monkeys will perish. Clear all the levels to acquire the ceremonial masks of an ancient tribe and discover their mythical lost treasure. Tiki Towers is action and puzzle gaming at its best!
Features as listed by the developer:
5 different islands and 45 challenging levels
Build bridges and towers using bamboo, coconuts and vines
Realistic physics – bamboo structures will bend, break, and collide with the environment
While I've spent only limited time with the title, the gameplay proved both engaging and challenging from the start.  The overall graphics and cute monkey animations give the game a nice feel of polish.  Tiki Towers, which is also available for the Wii, received a "Best Casual Game" award at the fifth annual International Mobile Games Awards competititon.
Tiki Towers is well worth its limited time holiday price of $0.99.
App Store Link: Tiki Towers, $0.99