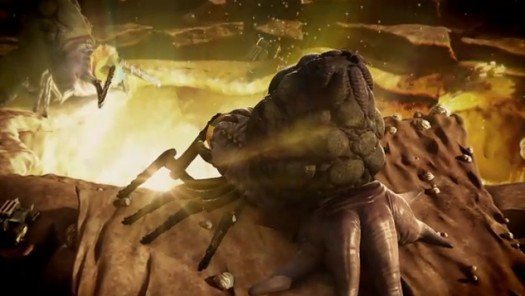 Mom? Dad? When did you guys get in a game?
The traditional RTS doesn't translate well to iOS devices, but that's not discouraging Gameloft. The studio has announced StarFront Collision, a seemingly classical three-race RTS that features a deep, 20-mission Campaign mode and an up-to-four person competitive online mode. This is in addition to a Skirmish mode, a cinematic flair, and supposedly solid controls.
Gameloft likes to pay tribute and it's doing so here once again. StarFront is drawing its inspiration from Blizzard Entertainment's StarCraft, a worldwide RTS success that has kept many a nerd locked in his bedroom / cave for days and days on end. (Diamond League is only a few billion CPMs away, right nerds-in-hiding? Right.)
And that's all we really know about the game, despite the fact that it's launching next month. You can get your first look at the cinematic part of the game by watching the above. By doing so, you'll also be able to play spot the likeness with us. Oh, found one! Those bugs look like the Zerg! What did I just win? Nothing? Jeesh. What kind of website is this?