Rovio Mobile is indeed developing a Christmas edition of Angry Birds [$.99, Lite], the developer confirmed earlier this week. The first images and details are available at Finnish site Finnish Ylex [Translated], which is presenting something of a problem for us non-Finnish people, but there are a few interesting details we've been able to glean thanks to Google Translate and Rovio Mobile's Twitter feed.
Angry Birds Christmas won't be a full App release like Angry Birds Halloween [$.99] was. It will, instead, be offered as a free update to the Halloween version of the game, Rovio's sole seasonal iteration of the series. Think of this as you would a Doodle Jump update. You turn on the title post-update and then enjoy a re-skinning of pre-existing assets for the prize of zero bones. It's a deal, right?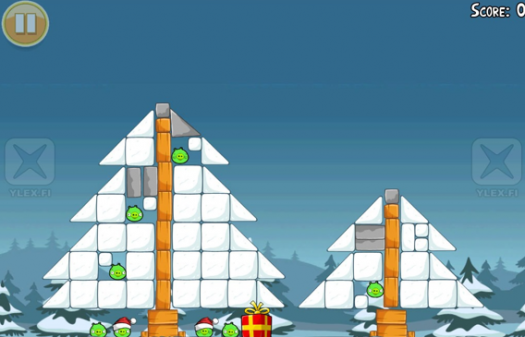 Rovio is saying that the update, which will include Game Center support (!), has been submitted to Apple for certification. We'll keep our eyes on the storefront and will let you know, obviously, when it hits.
And before you go, know that there's a possibility we might see some new birds in the future, too. On its Twitter feed, Rovio's social media dude said, "there are several new birds on the drawing board…" We're uncertain if Rovio was speaking to this update to the game or Angry Birds proper. Either way, around three trillion pigs have felt the righteous wrath of the current line-up. I, for one, wouldn't mind piling on the pain with a few more new birds. To six trillion and beyond, I say!