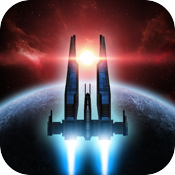 Fish Labs' marvelous third-person space trading / commerce game, Galaxy on Fire 2 [$6.99], is now a Universal App. This extra work done to the title costs dough, however, so we'll see a slight price hike from the game's current $6.99 to $9.99. But, for a limited period of time, you can go ahead and grab the game at $6.99. Fish Labs' considers this to be a bit of a celebration move, so feel free to join in on the party.
And you should consider doing so. Our own Blake Patterson was big on the title in his review, lauding its immersive qualities, deep systems, and control. He also noted that the game is packed with features and content. There are over 20 star systems to explore, more than 30 kinds of ships to upgrade, customize, and use, and even a decent story to take in as you do all the aforementioned stuff. Not bad, right?
If you've been waiting for the universal update to hit, now's your time. Just don't wait much longer before mashing that "buy now" button or you'll be paying a premium for this fantastic game.