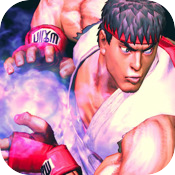 What's up, Street Fighters? Time to get your Sagat and Dee Jay on. Capcom's update for Street Fighter IV [$9.99] is now live on Apple's servers, meaning you can now pick the two aforementioned characters in regular and versus play. This update also adds in a hip Blue-tooth local matchmaking feature that auto connects people within range of each other, as well as a "Player Cards" feature that tracks stats of the people you happen to face.
I grabbed a screen of Sagat for your viewing pleasure. I didn't grab one of Dee Jay, as he's a locked character. To unlock him, you'll need to compete in Versus three times, which might be really hard if you don't have a pal with the game. That said, Capcom shot over an image or two, so problem solved on my end!
Oh! And before you run off to grab your update, do note that another Capcom joint has been updated. Resident Evil 4: Platinum [$4.99] has been given four new levels today — Chapters 15 through 18 — for free.