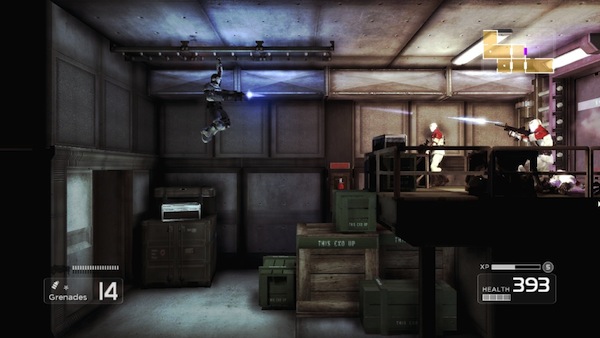 When I talked with Chair Entertainment's Donald Mustard the other day about Infinity Blade I couldn't let the opportunity to talk a bit of Shadow Complex slip past me. If you don't know, Shadow Complex is a brilliant Metroidvania-style action title that I still consider to be one of my favorite games ever. How could I resist asking Mustard if Shadow Complex could ever be released the iPad? I want it everywhere at anytime.
I told Mustard before I even fired off the query to be prepared to hear something stupid. Shadow Complex is in no way a touch screen type of game. In fact, I can't think of a single way the game could be ported to iOS and end up playing as well as it does on Xbox Live Arcade. I think I caught him a bit off guard with my steamy, hot fanboy desire. He ended up asking me initially in response, "What do you think? How do you think Shadow Complex would control on the iPad?"
I replied, "I don't know! I just want to hear you say it," I exclaimed. We both laughed and then Mustard shared his thoughts on the matter.
Yeah, I mean, for me, I don't know," Mustard said. "I think for Shadow Complex to show up on a touch device would mean we'd have to figure out a way for it to control really, really tight and really, really awesome. I'm not saying that can't be done. In my few minutes of thinking about it I'm kind of like, 'well, I don't know. We'd have to compromise a lot of the tightness that came with the control scheme of Shadow Complex.'
As Mustard said, Shadow Complex for the iPad could happen. But for it to be a reality, Chair would have to feel comfortable with the way the controls translated to the device. It would have to feel perfect, just like the XBLA version does.
For me — that's what it comes down to, if it can't be amazing, then I don't want to do it. I don't want to shoehorn controls in. I don't want to force it. Again, I'm not saying that it can't be done, but we'd have to come up with a way that it would still feel like Shadow Complex and still feel that tight. To me, one of the things that really made Shadow Complex feel good was that the controls were extremely responsive and worked. I'd have to be able to pull off a triple jump while shooting a foam gun while turning on my friction dampener to turn on so I could run across ceilings all with the touch pad. I dunno. We'll see. If anyone out there has a brilliant idea on how to make it control great, let us know!
Infinity Blade is Chair's first game since Shadow Complex. I tend to think sequel whenever a game hits with as much acclaim and sells as well as Shadow Complex did, so with this in mind, I asked if IB was the game Chair wanted to make following Shadow Complex. In short, yeah, it was.
This is the game I… when someone came to me and said, 'we would really like you to make a game for iOS devices and we'll have four months to do it…' What would you do? This is the game I would make. Absolutely. Given those constraints and that opportunity, yeah, we think this game is awesome for that.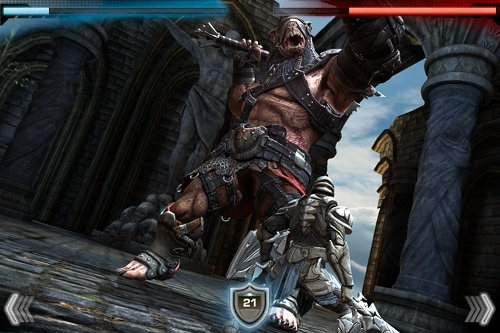 But will Chair stick with the iPhone after the release of IB? We'll see. Mustard and Chair are committed to making strong games on every platform.
For us, we just want to make awesome games. We want to make games people like to play, that entertain people and make them happy. I'm pretty device agnostic. To me, every console there's opportunities to do really unique, cool stuff. We will continue to make games for every device and console that makes sense to make games for.
Infinity Blade, which is an actual iOS game created by Chair Entertainment releases this holiday on the iPhone 4, iPhone 3GS, and iPad.