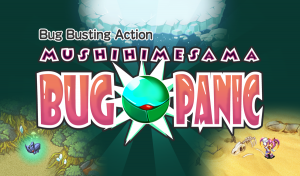 A couple of weeks back we posted a new video for CAVE's newest iOS game called Mushihimesama Bug Panic. A departure from CAVE's typical offerings like the scrolling shooters Dodonpachi Resurrection [$8.99/Lite] and Epgaluda II [$8.99/Lite], Mushihimesama Bug Panic looks to be more of a dual-stick shooter but still contains the hectic onscreen action that the developer is known for.
CAVE has just sent word that the release date for Mushihimesama Bug Panic will be Thursday November 18th. The game will launch at a discounted price of $3.99 for the first four days of release before returning to the regular price of $4.99. As with other CAVE releases, a lite version will be available sometime following the full version. Here is the latest trailer for the game, and I'm not going to lie, I love the Bug Panic theme song:
Also in line with CAVE's other iOS titles, Mushihimesama Bug Panic will only be compatible with 3rd generation devices and higher, as well as the iPad. Strangely they don't specifically mention the 4th generation iPod touch on their compatibility list, but it's assumed that the game should play fine on those devices as well. You can pop in on the upcoming games thread in our forum to pass the time until November 18th, and we'll be taking a look at Mushihimesama Bug Panic when it releases.