The same company that brought us Mr. Potato Head and Risk is poised to release a new peripheral for the iPhone and iPod Touch that will — wait for it — bring 3D gaming to the platform. It's called "My3D," and yes, it looks as strange as it sounds.
News of this device comes straight from a recent AP report, which spills a few beans short of a proper legume salad. My3D, in a nutshell, is a snap-on and wear device that renders Hasbro content into eye-popping 3D. How the device will render this content isn't being talked about at the moment. But, it appears as if what Hasbro will be able to make into a 3D experience is set to be somewhat exclusive. The AP report makes a specific mention that users with My3D will have to browse some sort of in-app store to be able to find content that will work with it.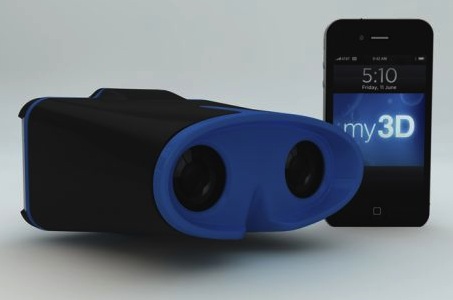 The 3D craze is hard to get behind because of price alone. Just hit a Best Buy and cruise the 3D HDTV aisle if you're not catching our drift, but My3D won't be crippling pocketbooks or crushing hearts. It hits next spring at an agreeable $30, according to Hasbro.
To be perfectly clear, My3D isn't strictly a gaming device; Hasbro, as MacRumors notes, has plans to use it for other bits of entertainment content like TV shows, movies, and weird interactive app experiences. Great, I say, but will we be able to play Flight Control with it? How hard will our loved ones laugh at us while we have a My3D strapped to our skulls? Ah, these are the questions we should be asking ourselves before we dive in.