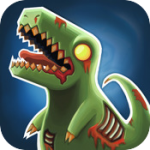 Halfbrick Studios' Age of Zombies [$2.99] is a dual stick shooter that started its life as a PSP Mini all the way back in February. Starring the same Barry Steakfries and similar to Monster Dash [99¢], Age of Zombies doesn't really bring anything that incredibly new or exciting to the table, but that doesn't make it any less fun.
It's a little hard to review dual stick shooters, because like so many other crowded genres on the App Store, they all play very similar. Age of Zombies features the standard set of on-screen controls that work great, a variety of weapon power-ups, and even grenades to toss when things get hairy. Gameplay consists of what you would expect out of a dual stick shooter. You run Barry around, shoot everything that moves, and do everything you can to survive.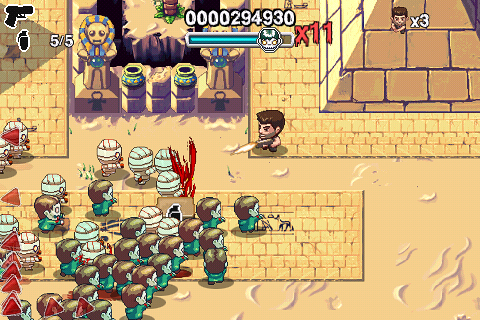 Halfbrick mixes things up a bit by changing the way health is handled in the game, as instead of a single hit resulting in death, Age of Zombies plays more like a modern first person shooter. As you take damage, the edges of the screen get red. If you're able to blast yourself a clearing and get away from whatever is chomping on you, your health regenerates and you're back to slaughtering everything in your path. I actually like this quite a bit because you only die when you're completely overwhelmed instead of biting the dust when you make a stupid mistake.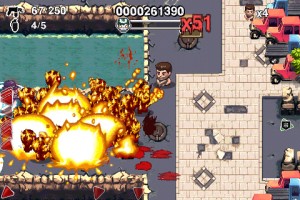 Terrain is very important in Age of Zombies, with levels having multiple paths you can run around avoiding and channeling enemies in to the spray of your shotgun or the splash of your grenade. Also, the number of enemies that can be on-screen at once is crazy. Seeing how long you can survive running away from everything, only to turn around and start lobbing grenades is a ton of fun.
The story mode is filled with swearing, toilet humor, and time traveling. In all, Barry will visit five different areas starting with battling prehistoric cave men zombies all the way up to the terrible zombies of the future. Each setting plays similarly, but it's nice to mix things up. Bosses also appear in game, but they don't really have any unique properties to them and instead just seem to serve as massive bullet sponges before finally falling over. The reward for playing through the single player is a survival mode for each time period, complete with online leaderboards using both Game Center and OpenFeint.
Sure, there are a ton of dual stick shooters on the App Store, but there's only one starring Barry Steakfries. If you have room for one more on your device, Age of Zombies is an excellent pick. Game Center support and the fact that Age of Zombies is launching as a universal app makes this bloodbath even easier to swallow. The only question left is what kind of trouble will Barry Steakfries find himself in next?