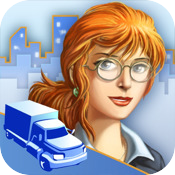 G5 Entertainment has recently released a new update to the iPhone/iPod touch version of their transport management simulation game Virtual City [$4.99/Lite]. In our original review of Virtual City last month, we found it to be a well crafted simulation that required keen skill and strategy to complete the many scenarios contained in the game.
A couple weeks ago, Virtual City HD [$9.99/Lite] launched for the iPad, and in addition to offering higher resolution graphics and a reworked UI to suit the larger screen it also boasted a sandbox mode with 5 different maps where you were free to build and maintain your own city from the ground up. This latest update to the iPhone version of Virtual City adds the same sandbox mode and 5 maps of its iPad counterpart. In addition, there is now Game Center integration and improved Retina Display support (as originally Virtual City only had partial Retina Display graphics).
If you own Virtual City then make sure to grab the latest update to take advantage of these new features. While the $2.99 introductory price for the game is now over, based on the many positive impressions in our forums the game is still a great buy at its current price of $4.99, and there are many happy customers of the iPad version in that forum as well.