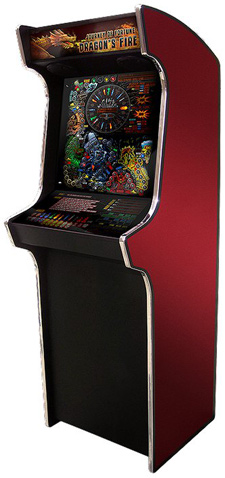 Czech development studio Cinemax has recently released a rather unique sort of role-playing game for the iPad. Designed to feel like an oldschool video game machine, Journey of Fortune: Dragon's Fire [App Store] seeks to turn your iPad into a digital board game. And here, it succeeds.
The game, which can be played solo or against up to three other people on the same device, puts you in the role of a mage (or magic user) on a perilous journey to kill the dragon and save the princess. Your journey is marked by an illuminated indicator somewhere among the 67 "lights" that make up the meandering path to victory. The lights are set in an illustrated, vertically scrolling "board" that artfully indicates what perils and actions / bonuses lie where, along the way.
Journey of Fortune is a dice-driven game, but the roll-of-the-die mechanic is handled via an illustrated wheel that spins with a finger-swipe. You progress forward along the board the number of paces indicated by the die face on the indicated wheel segment. You may end up landing on an uneventful spot along the path, but more likely you'll encounter a beastie to contend with, a bonus of some sort, or a teleporter that sends you many paces back whence you came (which, though frustrating, mixes up and extends the gameplay nicely).
When an enemy is encountered along the way, it's time for combat, and that's also handled via the spin-wheel dynamic. In combat mode, artifacts of both offense and defense become illuminated along the wheel, and a spin determines what your next combat move will be. These consist of:
Melee Attack: Magical Dagger and Sword
Attack Spells: Fireball, Lightning, Wall of Fire and Poison Strike
Defense Spells: Heal, Heal II, Shield, Shield II, Mana, Mana II and Fear
In standard RPG fashion, your character has a certain level of Hit Points and Mana at any moment. Sustaining a monster attack drains Hit Points, and casting spells saps your Mana. Both can be recovered by Defense Spells on the wheel and by landing on certain bonus spots on the board. The combat wheel also allows you to indicate how much Mana the next attack should use, the more the mightier your attack, of course.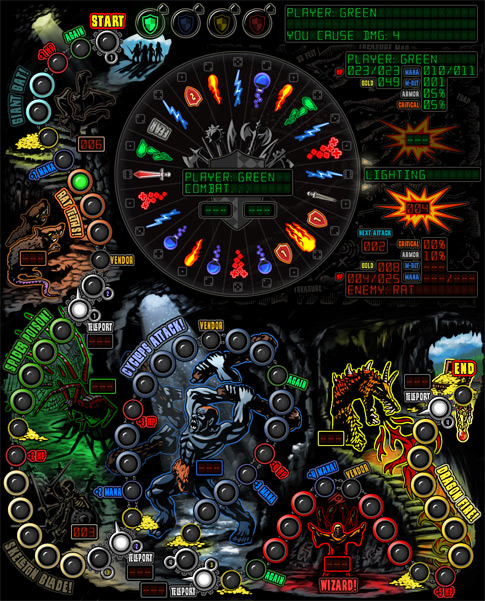 While I enjoy spending a bit of time with a nice RPG, they're really not my forte. I just don't have the time to put into them. And I've never really spent any time with RPG-style board games. But Journey of Fortune is strangely appealing to me. The single-player game (how I've spent my time here) hits the ground running and moves things along at a pace that seems well suited to play on a mobile device, where you're not really looking for a game consisting of hours upon hours. And, for a title that strives to deliver a digital board game experience, what device is more ideal than the iPad? It's a game that feels quite "right" for the platform, but this first release is not without a few issues.
The game takes a little while to get the hang of, on first approach. The title screen provides a brief list of play rules, but it doesn't send you into the game feeling very well educated. Gameplay is a fairly straightforward affair, however, and a sufficient comfort level shouldn't elude most gamers for very long. The developers, who are active in our forums, indicate that they'd like to improve the help / hint system in a future update, but prefer not to employ any sort of window overlay, which would shatter the board game feel of the title. Another criticism I might raise is the lack of a save feature; when you jump to another app, the game is gone for good. However, the developer indicates this will be remedied in the game's next update. Global leaderboards and a choice of difficulty level for the single-player mode are also on the way.
That said, Journey of Fortune: Dragon's Fire has quite impressed me. I've found it to be surprisingly engrossing to play and a title I would reach for to demonstrate the iPad to a friend unfamiliar. It's an experience I can recommend to any iPad gamer, even if RPG's aren't their thing.
If all this sounds appealing, today would be the day to jump, as Journey of Fortune: Dragon's Fire is on sale (today only) for $.99 — 75% off the standard $3.99 asking price. A brief video of the gameplay can be seen here.