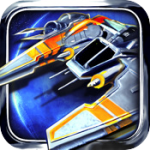 In a somewhat surprising move, Gameloft released its space combat game Star Battalion [$6.99] to the App Store earlier today. While Sunday releases aren't generally common, another interesting thing about Star Battalion is that it is the first game that I know of to offer online co-op using either Apple's Game Center or Gameloft's own Gameloft Live! service. Strangely, the local and online multiplayer options only extend to co-op play, as there is no option for head-to-head battles in Star Battalion.
The single player campaign features multiple missions of interstellar conflict, all of which can be played online with another player. When playing by yourself, two AI controlled wingmen play through the game with you. The usual gamut of Gameloft features have made their way into Star Battalion, including Retina Display graphics and gyroscope-enabled controls for 4th generation devices. Onscreen gestures perform barrel rolls and backflips while in the midst of battle, and there is an option for virtual control stick controls if you're not a big fan of tilting.
This lengthy preview video of the Japanese version of the game from AppBank gives you a great idea of the kind of gameplay found in Star Battalion:
Lots of player impressions have been pouring into our forums throughout the day. So far the major points covered are that the actual combat in the game is really fun and feels a little bit like Starfox (though not on-rails); the online co-op is cool but the lack of a versus mode is disappointing; the voice acting is painfully bad; and the overall game is fairly short clocking in at about 3.5 hours in one gamer's experience. However, the replayability is naturally a bit higher than this due to the online multiplayer, achievements, and leaderboards. If you're in the mood for a new space combat game with impressive graphics, and an interesting online cooperative component, then take a look at Star Battalion and be sure to share your thoughts in our forums.