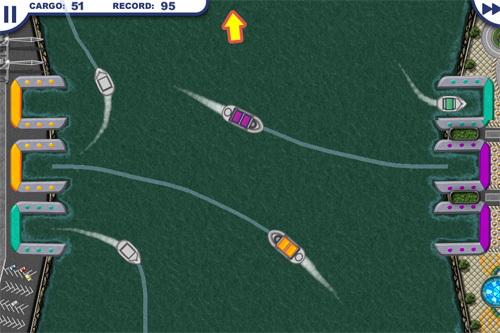 One of my real iPhone favorites — a game that I actually play for fun (a rare thing, given the number of titles we move through to find the gems among the chaff out there) — is Imangi's Harbor Master [link], which The Independent recently dubbed the third best app in the App Store. And the iPad version, Harbor Master HD [link] is the best Harbor Master experience to be had, thanks to the device's large display. Happily, Imangi's v2.0 Harbor Master update, which went live just a few hours ago, brings some of that big-screen detail to the iPhone 4's Retina display.
Imangi lists the enhancements in this update:
Completely remastered high resolution graphics for the iPhone 4.
New level! We adapted Cargo City, our most popular map from the iPad version, for the iPhone screen. It has 3 cargo types, so it takes "multitasking" to a whole new level.
iOS4 multitasking support.
Fixed twitter support so you can tweet your scores again.
Rotation support, so you can hold your device however you want!
A ton of bug fixes.
Imangi's current graphics guy, Kiril Tchangov, reworked all of the game's original art from scratch, putting his own, more "painterly" spin on the design, the studio tells us.
I think most people will be most excited about the new level, Cargo City. Cargo City is our most popular map from the iPad version, so we really wanted to bring a version of it over to the iPhone. It works really great on iPhone. With 3 cargo types, you have to turn on another part of your brain to control all those boats. You'll really like it. Here is the iPad version right next to the iPhone version, so you can see how we had to change it around to adapt it to the smaller screen.
The
Harbor Master
v2.0 update is a free download for current owners of the game.