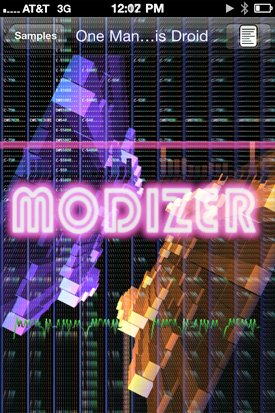 I'll start out by saying that this is a bit of a curious post. The app I'm highlighting here isn't a game at all — not even sort-of a game. It's a music player, of sorts. But, a music player that should bring a smile to the face of many a gamer who sat in front an Amiga or PC, joystick in hand, back in the late '80s and early '90s. The app I speak of is French developer Yohann Magnien's Modizer [App Store]…and it's a MODplayer.
First, some history for those unfamiliar with MODs, trackers, and all that lot of sampled digital audio goodness. In 1985 the Commodore Amiga was released, bringing with it dramatic innovations on every front, really. And, among them, was its 8-bit, 4-channel, wavetable, stereo audio subsystem offering far better audio playback than any other consumer machine of the time. Digitized sound samples could be loaded into the Amiga's CHIP RAM and triggered for playback (and with zero CPU intervention), with highly realistic results.
Two years after the Amiga's release, developer Karsten Obarski decided to create a program that would load samples into said RAM and trigger them for coherent playback using a simple script that's something akin to the scroll of a player piano. That program was called Ultimate Soundtracker. And that script, plus its associated audio samples all bundled together into a single file, is called a module or MOD. Since then "trackers" of every sort, along with new MOD-like formats, emerged for platforms far and wide.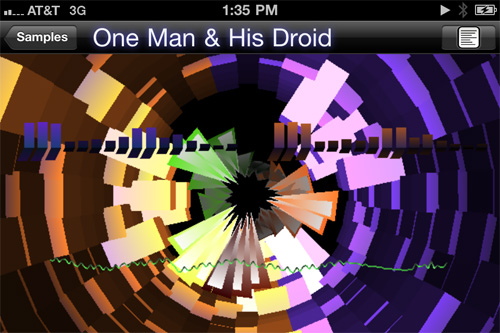 Demoscene coders were quick to adopt these trackers to create soundtracks to accompany their onscreen pixel magic and soon the "music guy" became a critical component of every demogroup. Noting this, game developers began adopting tracker modules as their solution for in-game music. Back in the day of limited CPU resources, audio boards with real horesepower came onto the scene to enable efficient playback of not just 4 but 8, 16, 32, 64 channels. Demos and games benefitted mightily, and audio geeks had a new scene to drool over. (I was a GUS and CapaMOD man, myself.)
And plenty of iOS games have reach out to MODs, S3Ms, XMs, and other formats of the kind for their soundtrack solutions.
And, so we come back to Modizer. Is it the only MODplayer in the App Store? No, it's not. But it appears to be the most full-featured. Modizer supports a dizzying array of audio formats thanks to its use of the MODPlug and UADE players (the latter of which actually emulates an Amiga 1200 computer), switchable in the settings menu. A variety of OpenGL-based audio visualizers can be enabled to accompany playback, a feature that will be much appreciated by those accustomed to hearing MODs running alongside a demoscene production's onscreen pixel magic. And it all runs smooth as glass without missing a beat.
Modizer is a universal application, natively supporting the iPhone 3G, iPod touch 2G, iPad and up, with specific optimizations for the iPhone 4 and iPad. The app includes a file browser that allows free access to the MODLAND and HVSC collections — about 215,000 tracks in all — that, when downloaded, are stored locally for quick access. The archives contain audio tracks from basically every demo ever made as well as most games for the C64 and Amiga.
See our iPad demo video. The developer provides a few iPhone demo videos, as well.
At a mere $.99, Modizer is a godsend for gamers with a fancy for digital music. And, while indeed not a game, Modizer for iOS seems worth a spot here at Touch Arcade.
UPDATE: We just got word from the developer that he's currently working on a v1.1 update that includes various bugfixes as well as a number of enhancements:
Some optimization for browser (mainly when browsing modland/artists)
Sharp X68000 support (mdx/pdx files) with updated Modland lib
Addressing issue where some formats miss the last second of music
And more to come, depending on user feedback…
Magnien indicates that he's also considering a network "user stats" sort of ranking system that would let users easily share the overall highest rated songs. We'll keep you posted.