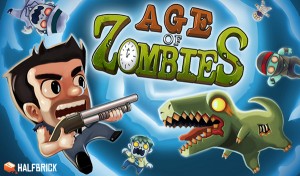 Halfbrick Studios, developer of both Fruit Ninja [99¢/HD] and Monster Dash [99¢], has officially announced today the port of their hugely successful PSP Minis game Age of Zombies to the App Store. There had been speculation in our forums for over a month that the game would be making an appearance on iOS devices, with a "coming soon" banner on the Age of Zombies website and a product description on Halfbrick's online merchandise store providing hints of an intended App Store release. Early this morning, Halfbrick updated their website and sent out a press release with Age of Zombies iPhone screenshots, thus confirming the game will indeed be coming.
Age of Zombies is the original adventure of Monster Dash hero Barry Steakfries. When Barry uncovers the plot of Dr. Brains to send zombies to different points in time to destroy mankind, he decides to take action. He'll travel through five different time periods battling zombified versions of cavemen, mummies, ninjas, and dinosaurs. The teaser trailer for the PSP Minis version shows some of the gameplay in action:
The game will include the full five worlds of the story mode as well as a Survival mode featuring online high scores, and is set to be an improvement over the PSP version in a number of ways. It will contain better graphics, a reworked user interface, and dual-stick touch screen controls for controlling Barry. Click through the following gallery for a look at some screens of the iPhone version of the game:
No word on pricing just yet, and the release date doesn't get any more specific than sometime in October. Halfbrick does note that Age of Zombies will be a universal build that will run on both iPhone and iPad, which is good news for gamers with both devices. We are definitely looking forward to taking Age of Zombies for a spin when it releases this October, and until then drop by the upcoming game thread in our forums to join in on discussion about the game.