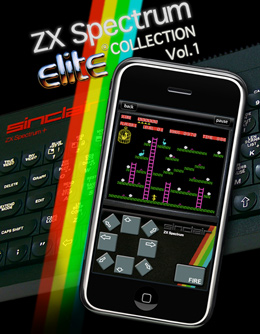 Elite Systems, one of Europe's most long established video game publishers (founded in 1984), today informed us that Apple has just approved their upcoming ZX Spectrum: Elite Collection (Vol. #1). Themselves publishers of over 50 game titles for the British Sinclair ZX Spectrum home computer (which may be little known to most of our readers in the states), Elite plans to bring a bevy of venerable Spectrum titles to our favorite mobile games platform through future volumes of the collection.
For those unfamiliar, the ZX Spectrum is an 8-bit home computer that was released by Sinclair Research in the UK in 1982. It is based on the Z-80 processor running at 3.5MHz and features a 256×192 pixel display in 16 colors (with notable restrictions). The Spectrum was available with either 16K or 48K of RAM and was followed up by several models offering more memory, enhanced audio, and such. The American gamer who was around to see home computers in the '80s probably best remembers Sinclair Research from the Timex Sinclair 1000, an extremely inexpensive, black & white 4K computer sold in America, itself a take on the European Sinclair Zx81. A later attempt was made to actually bring a modified version of the ZX Spectrum to the US in the form of the Timex Sinclair 2068, but it failed badly for a number of reasons and is remembered by few.
Elite's Steve Wilcox comments,
We have long range plans for ZX Spectrum: Elite Collection. Starting with the games bundled with this inaugural volume, our goal is to offer access – via mobile and wireless devices – to many of the thousands of fantastic ZX Spectrum games. Simultaneously, we're offering the developers and publishers of those games the opportunity to monetise their work by bundling them with future volumes, offering them as In-App purchases or by commissioning us to create bespoke bundles which they can then publish themselves.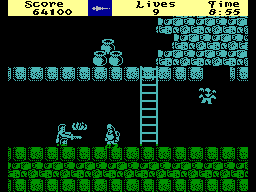 Notable features of the ZX Spectrum: Elite Collection package, as listed by the studio:
100% original and "officially licenced" ZX Spectrum games
game-specific play controls
extensive playing instructions
option of portrait or (full-screen) landscape play / display modes
authentic 'Spectrum' sound
While I, personally, have only modest experience with ZX Spectrum games — and through emulation — I've followed its history closely through every issue of the superb UK-based Retro Gamer magazine. And what experience I do have with the platform allows me to tell you that the ZX Spectrum game library coming to the iOS platform is a very good thing.
The release date of ZX Spectrum: Elite Collection (Vol. #1) will be announced later this week, along with a preview video. Stay tuned for more on this when it hits the App Store.