Last year, the Paramount licensed and Freeverse developed Top Gun [$1.99] was released on the App Store. It featured fighter jet action that loosely continued the story of the 1986 movie and brought some advancements to iPhone gaming that were noteworthy at the time, not to mention some awesome easter eggs. The first Top Gun was well received by players, and now Freeverse is set to bring out the sequel Top Gun 2. They have sent over some exclusive screenshots as well as some additional information about the game.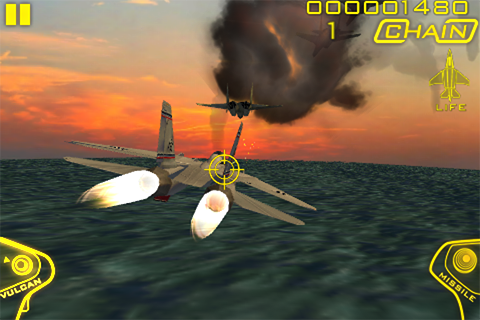 According to information from Senior Producer at Freeverse Bruce Morrison, Top Gun 2 will be a more streamlined experience than the first. You'll be able to start the game and jump into air combat quickly, and it will support the fast app switching of iOS4. As Bruce puts it, "we cut out the stuff that got in the way in the first game, and let players focus on what they really want to do: blow up enemy jets, tanks and helicopters, and look cool doing it." He also notes that Top Gun 2 draws inspiration from some old-school arcade titles like R-Type and Galaga in regards to the behavior of enemies in the game, and will reward players able to react to and recognize enemy patterns.
Top Gun 2 will focus on preventing a nuclear strike on America, and will feature the F-14 Tomcat which is a fan favorite amongst fighter jets. As an added bonus, if you check out Top Gun 2 via the in-game link from the original Top Gun, you can unlock a bonus jet to play in the first game.  The Top Gun 2 screenshots look good, and it should be an improvement over the first title. The game is set to release this Thursday the 19th, so it won't be long at all before we're able to get our hands on the full game. We'll take a closer look at Top Gun 2 when it becomes available.