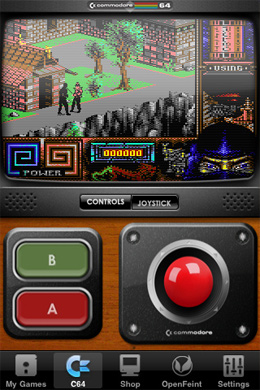 Retro overlord Stuart Carnie of Manomio contacted Touch Arcade to let us know that after months of work, the C64 for iPhone v1.7 update will shortly be arriving in the App Store. This is a major update that brings numerous enhancements as well as a nice list of additional games available through the app's integrated game store.
Control Improvements:
Corrected dead area at side of screen in landscape, rendering controls unresponsive for a small strip
New fixed-mode joystick in landscape mode, automatically selected for specific games
Option on the settings screen to force fixed-mode joystick in landscape mode for all games
File-based disk support for multi-disk games. Does not work for those games requiring true 1541 support. (No virtual swapping of disks)
Option to adjust dead zone / sensitivity of joystick
Updates Fixes:
Upgraded to OpenFeint 2.5
Removed bottom bar in full-screen landscape to prevent obscuring screen in games like Wizball
Reimplementation of control layout system, to support the complex controls scenarios for games like The Last Ninja and Druid
Borders are correctly drawn in landscape (Wizball looks better now)
Hi-res icons added for retina and iPad displays so C64 looks better on your home screen
Usability Improvements:
Display OpenFeint notifications at top rather than bottom
Added grouping to In App Store to separate downloaded / purchased titles
Shop now separates downloaded games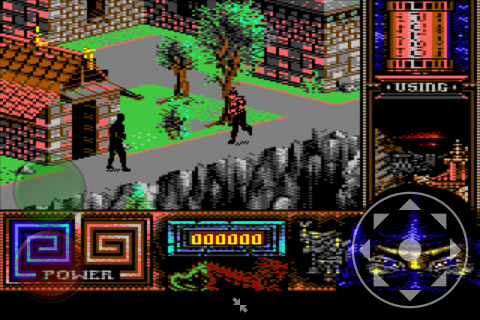 14 New Games:
Stuart indicates that, despite this major update, C64 is not the studio's only focus, by any means. Their brainteaser-style game Nerve Jangler — a NinjaDoodle license that's been played over 22 million times — will be complete and out the door in the next few weeks, and then it's all focus on the Amiga games. We hope to have some early ad hoc builds of a few Amiga classic nicely packaged up for the iPhone in the next few weeks. Stay tuned!