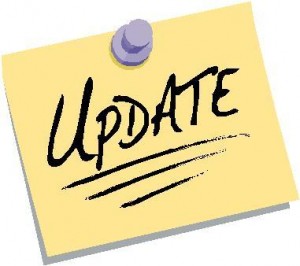 If you're like us and have way more apps in your iTunes library than you can manage without a dedicated personal assistant on the job (Ahh, first world problems truly are the worst.) then you might have missed some of these updates that have hit the App Store recently. If you've grown tired of any of these games since you first downloaded them, mash the "update all" button and give them a go again.
Archetype, $2.99 – We were blown away by Archetype as evident by our review. The game features gameplay similar to Eliminate [Free] in that it's an online first person shooter that's playable over everything from EDGE to broadband via WiFi. Archetype ups the ante significantly by providing 5v5 team-based deathmatches that are a ridiculous amount of fun, and the fact that it runs at Retina Display resolutions on the iPhone 4 is the proverbial cherry on top of this multiplayer fragfest sundae.
The update that just landed adds a new level called "Avarice" which focuses on vertical combat with tons of jump pads. Also, the new game mode "Rocket Arena" pits players against each other using only rocket launchers. If you're playing with an iPhone 4, the game now can take advantage of the gyroscope, and there are a number of other tweaks and fixes as well.
---
Bejeweled 2 + Blitz
, $2.99 – This game should hardly need an introduction, but in case you've been living in a cave on Mars with your fingers in your ears and your eyes closed,
Bejeweled
is PopCap's insanely successful match 3. The original
Bejeweled
was released nearly 10 years ago, and since then the game has seen a few sequels and spinoffs which have been ported to nearly every platform imaginable.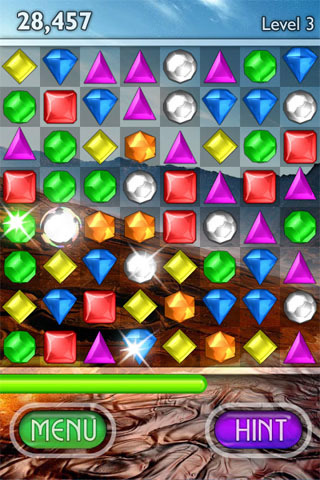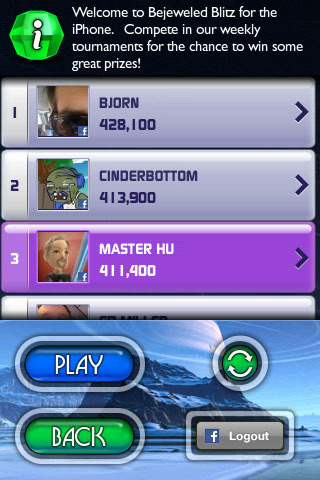 The latest update further fleshes out the Blitz game mode which can be played sharing online leaderboards with any friends of yours who play the Facebook version. The iPhone version of the game now has coins and boosts, which basically just amount to yet another layer of complexity on top of the game where your Facebook friends can score millions of points more than you, leaving you wondering how people get so good at this game. Coins spawn randomly and are collected by matching the associated blocks, and then those coins are spent on power-ups (or "bosts") to boost your score even more.
---
Doodle God, 99¢
– I fully admit I don't understand the appeal of this game, yet nearly everyone I know can't get enough of it. Peter explains how the gameplay works
in our review
, and
Doodle God
basically amounts to combining various "elements" to create others such as combining earth and fire to create lava. From there, lava can be combined with other elements to create even more, and it just snowballs from there.
Episode #3 just landed which adds even more content to the game. There are over 100 new reactions along with 40 new "modern age" elements. There are also now parental controls to make sure your kids can only create kid-safe elements along with several other additions and tweaks such as not draining your battery quite so much while playing.
---
Aqua Moto Racing 2, $2.99
–
Free
– I really liked this arcade aquatic racer
in my review
, and while these updates haven't been released yet, they're worth keeping your eye out for. 1.0.2 is adding Retina Display support, 1.0.3 is adding universal support to turn the iPhone game in to an iPad game, and 1.0.4 is adding a new "storm mode" which apparently is going to be for "hardcore riders" only.
It's always exciting to see a game get this much post-launch support, and I love when iPhone games I like turn in to universal apps so I can play them full screen on my iPad. Aqua Moto Racing 2 already looks great on my iPhone, and I can't wait to see it at Retina Display resolutions.