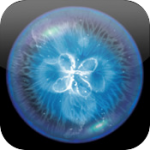 The award winning Mac/PC game Osmos from developer Hemisphere Games made its way onto the iPad last month to overwhelmingly positive reviews from just about every media outlet that laid their hands on it. Osmos is the kind of experience that blurs the line between art and game, and we really enjoyed the game in our own review as well. As great of an impression as Osmos left on iPad owners, those who are without that device were left asking "where is an iPhone version?" Hemisphere had hinted during the development of the iPad game that an iPhone version would be forthcoming, and they have since confirmed this on their website with a gameplay video and release date.
One concern that always seems to come up when talking about Osmos for iPhone is how the game will play on the smaller screen as opposed to that of the iPad. It appears the answer is that it will play just fine, as demonstrated in this video:
The iPhone version of Osmos will contain all the same content as it's iPad older brother. The developer explains that some of the levels have been slightly reworked to accommodate the smaller screen space, and due to this the game can require different strategies to complete some levels, offering a somewhat different experience than the iPad version.  The iPhone version will also have full iOS4 and Retina Display support. If you've been green with envy over iPad owners getting to experience such a phenomenal game, rest assured that the wait for Osmos on iPhone is almost over, as the game will be available August 5th for $2.99.